De Soto volleyball looks to build off of 30-win season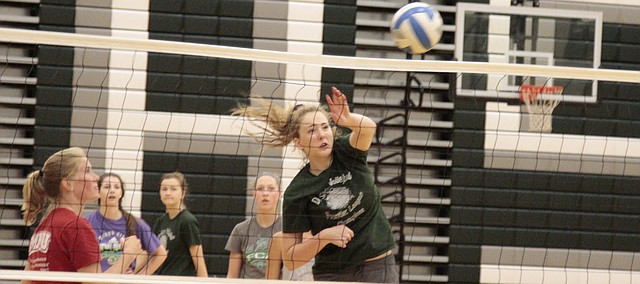 De Soto — After posting a 30-win season and only losing one senior from last year's squad, the De Soto volleyball team was eager to take the court for its two-day camp on Thursday and Friday.
"Camp has been great," De Soto coach Lindsay Hothan said. "We've got two full days, and I love it because with the coaches that we have coming in for camp this year, they bring a lot of experience. They have a very diverse background and a different way of teaching things and doing things, so it's been great for our girls to get exposed to just some new terminology and new ways of practicing skills and doing some new, fun drills so it's been a lot of fun."
With several girls on Hothan's team heavily involved with national club volleyball tournaments, there were a few of her more experienced players that were unable to attend the camp, but the De Soto coach was pleased with the effort from those who were there.
"I'm most excited about the girls playing together. Our older girls are really getting to know some of our younger girls, and we're really taking away some fun and exciting new drills," Hothan said. "There are some things that we already do, but a lot of new things that we don't. I'm excited to incorporate some new things into our practices."
With Jackie Kennard being the only player that De Soto lost to graduation, the Wildcats already have most of its core from last year's squad back on the court. The Wildcats currently have a diverse trio of three seniors in Riley Moore, Kelsey Beary and Alexa Rosetta — all of which add their own dynamic to the program, according to Hothan. Moore was a key member of last year's varsity squad as a defensive specialist, while Beary was one of the leaders on the JV team. Rosetta will get the chance to play for the first time since her freshman year at St. James Academy. The St. James transfer had to sit out her sophomore season due to transfer rules, and did not play for De Soto as a junior.
"A lot of girls really look to her (Moore) for that positive energy. She brings that just very naturally," Hothan said. "Alexa has been fun to watch this summer because she's very vocal and very loud and very kind of business-like on the court, which is really cool. Then Kelsey has been fun to watch this summer because when things are up or things are down, she's very consistent and I appreciate just her cool-headed nature and her consistency."
Hothan is also very optimistic about her junior class despite outside hitter Kaitlyn Bell being sidelined for the season due to injury. Nine of the 12 girls on De Soto's varsity roster last year were sophomores, and Hothan is excited to see what Cassidy Crist, Loren Hinkle, Maya Bascom, Kennedy Higgins, Kendall Schmitt, Ally Barnhart, Haley Cuba and Caroline Whipple can do as juniors.
"Our junior class is a very big class and definitely a very talented group. I'm really looking forward to seeing how their offseason work is going to translate," Hothan said. "I know this year our schedule is going to be tougher than last year, and that was intentional for us. I'm excited to see how they respond to tough competition, but they are all very competitive girls. I'm very excited to see them in action."
While the Wildcats are loaded with experience, Hothan insisted that a spot on the varsity squad is not a given with some of the talented underclassmen who are also looking to contribute.
"I think last year was just kind of a great momentum-builder for us coming into this season. I'm feeling really exciting about future coming in with our incoming freshmen as well," Hothan said. "Our program as a whole, I think, is looking very competitive. As a coach, I'm very excited about what I'm seeing and hoping that that momentum translates into next season."
More like this story