Highly-motivated
SM

North football players show competitive edge at camp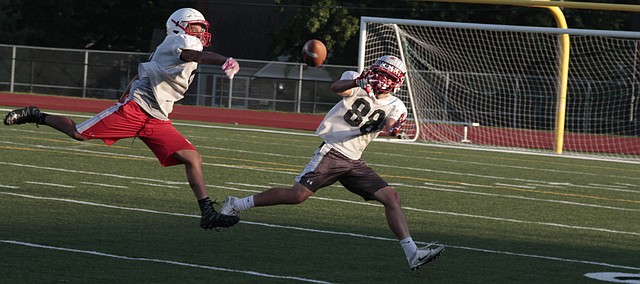 Overland Park — There wasn't any lack of motivation for the Shawnee Mission North football team at its team camp last week.
After posting its first winning season last year since 2004, the Indians are keeping the bar high for the 2017 campaign.
"We had a good season last year," SM North coach Ben Bartlett said. "We want to keep the momentum going with the season we had last year. With a lot of key pieces returning, we feel like we can do that."
While Bartlett is excited about the players he has returning, he knows it won't be easy to replace a talented Class of 2017, which included three four-year starters in quarterback Will Schneider, running back Marcos Garcia and lineman Danny Presler.
Bartlett has not officially named a starting quarterback, but he has seen some promise out of the players who are looking to fill the big shoes of Schneider.
"It's still an open competition right now," Bartlett said. "I'm not going to commit to anyone yet, but I've been pleasantly surprised with the competition with how it's unfolded thus far. We'll keep an eye on that for sure as we move forward."
One position that will be loaded with experience for the Indians will be wide receiver, as senior Nate McCoy and junior Noah Laird are both returning. Laird led the Indians with nine touchdown catches last year and was second on the team in receiving yards with 810. The SM North junior said that he feels even better than he did at this point last year thanks to the work he put in as a sprinter on the Indians' track and field team in the spring.
"I went into freshman year and was like, 'This is going to help me.' I knew it," Laird said. 'I got so much faster through track season. Last track season, I went to state. Our 4x1 took sixth overall."
Laird is excited about having an expanded role on the defensive side of the ball as well. After getting some reps at cornerback last year, Laird is moving over to strong safety.
"I feel like safety is more fit for me because of my speed. I've learned so much because you have to watch the whole entire field," Laird said. "You've got to make plays and make sure if it's a run or a pass play. You've got to make sure that you're there. I'm learning a lot. It's making me a much better player than I was."
With players like Laird learning new positions, Bartlett did not want to rush each drill and scrimmage during camp last week so that his players could take in as much knowledge as possible.
"All of the fundamentals. We've got to hit all of those up, and there's a lot of them in football," Bartlett said. "We've spent time on offense and special teams and then defense. We're hitting up all phases of the game.
"We have a big mix of some experienced players and some first-timers. We're trying to make sure to push those kids that need the extra pushing, but not leaving the newer ones in the dust is pretty important. So far, I feel like we've struck a good balance."
Along with Laird and McCoy, running back Reese Sila and linebacker Tanner Willmon were among the veteran players who served as vocal leaders during camp. Sila also received some exciting news late last week when he was given an invitation to the Blue-Grey All-American Bowl on December 19 at Cowboys Stadium in Dallas.
"Reese is coming into his own as a senior and is definitely looking forward to his opportunity to carry the load for us at running back. He's a similar back in a lot of regards with his physicality and ability to run the ball to Marcos," Bartlett said. "He's also got some things that stand out and make him different. He's a good pass-catcher out of the backfield and he's got some good hip mobility to make some guys miss, so that's exciting."
While Bartlett was encouraged by the competitive nature that his players displayed throughout camp, he also felt that SM North put forth a good effort against some other teams this summer — whether it was at 7-on-7 tournaments or college team camps.
"I'm doing my best to get us some experience against some other teams. A lot of the other really good teams in the league find other good teams to play in the offseason to get some reps against so that was the goal this offseason was to do that ourselves and I feel like we did that," Bartlett said. "Pitt State, it was a great experience for our kids to see all sorts of schools and different types of offenses and defenses. That kicked the summer off for us, and then we spent some time down in Blue Springs going up against Shawnee Mission East, (Bishop) Miege and Blue Springs, of course. They were some quality opponents, so I feel like we got some good looks that will help us become a better team."
More like this story