Face to Face: Crystal Herber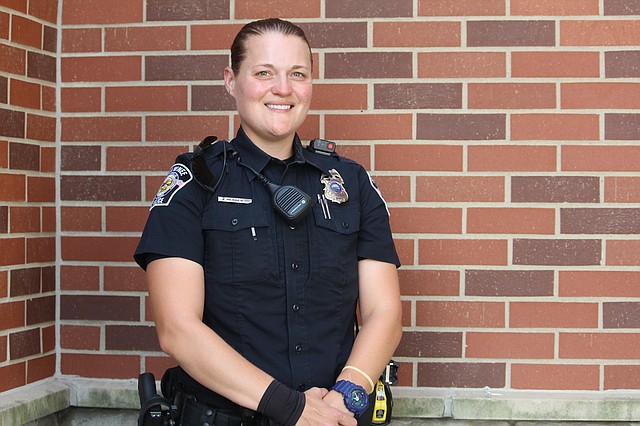 Name: Crystal Herber
Born: Shattuck, Okla.
Family: Annie, wife, and Hope, 8-year-old daughter
Occupation: Shawnee police officer
Dream job as a kid: "I wanted to be a meteorologist because I loved the movie 'Twister.'"
Digging deeper: When Herber finished college, donning a police badge wasn't even on her radar. In fact, the Oklahoma native pursued a career in journalism.
As a reporter for the Ottawa Herald, she covered county government, feature stories and breaking news.
"I was always good at writing and I liked being nosy," she said. "I liked knowing things before other people."
But after a couple years, she decided that career path was no longer her dream.
After spending a couple years as a personal trainer, Herber found her true calling: police work.
She was hired by the Shawnee Police Department in August 2015.
"With everything going on with Baltimore and Ferguson, I wanted to help show people that not all (officers) are bad guys," she said. 'It's like being part of something bigger than yourself."
The job is fun because not every day is the same, she said.
Plus, it's a chance for the 29-year-old mother to be a role model for the younger generations.
"I love talking to kids and stopping to give them stickers," she said. "They love seeing the lights on the car.
"It's important to nurture that feeling early on that we're here to help."
But Herber, who is the only female officer on the police department's SWAT team, has quickly learned the job is not easy.
"I've seen some crazy stuff and I've seen some terrible stuff," she said. "I'm a huge advocate of wearing a seatbelt because I've seen firsthand what can happen when you don't. Accidents always seem to stick with me."
Working the evening shift, Herber sees everything from traffic accidents to shoplifting to domestic violence.
Although, like all officers, she trained exceptionally hard for the job, she insists, "you're learning every single day. I believe anyone can do this job, you just have to be teachable and be able to talk to people."
Although Herber and her family moved recently to Shawnee, they have no plans to leave. Herber's dream is to retire in Shawnee.
"The Shawnee Police have been nothing but great to me and my family," she said. "I love my job. The schedule is crazy but I can't see myself doing anything else."
When Herber isn't busy doing her part to keep the streets of Shawnee safe, she spends her free time with her family, going to movies at B&B Shawnee 18 and watching television shows.
But no cop shows, Herber insisted.
"I know now they're so unrealistic," she said, laughing. "I can't watch them anymore."
She also loves to cross-stitch and is making a baby quilt for her nephew.