Police investigating overnight bridal shop burglary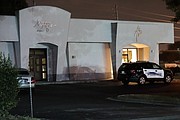 Shawnee Police confirm they are investigating after someone broke into a bridal shop near Shawnee Mission Parkway and Richards Drive.
In a news release, Sergeant Ryan Robinson says officers were dispatched to an intrusion alarm at the business at approximately 1:45 a.m..
"Upon arrival, it was discovered that the back door had been forced open," Robinson said in the release. "The business was searched and no one was found inside."
The release also says it is currently unknown what, if anything, was taken from the business.
No other details have been released.
Check back with this report for updates.
---
Operation 100 News provides overnight news coverage for the Shawnee Dispatch. Follow on Twitter for real-time updates.