Local artist chases childhood dream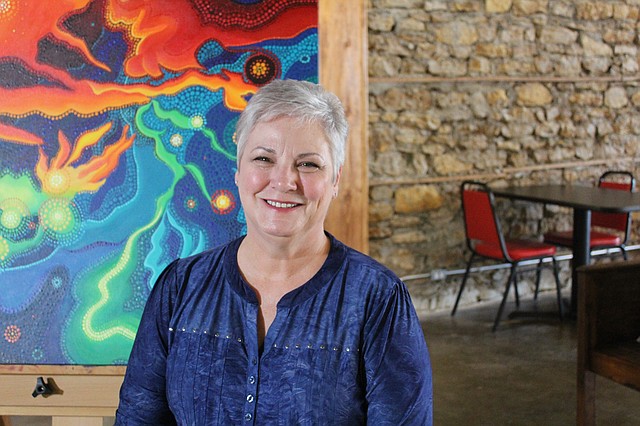 When Catherine Kirkland was 4 years old, she confidently told her parents she was going to be an artist when she grew up.
As she reached adulthood, life took on a different path, however.
She got married, raised a family and pursued a career as a graphic designer.
"Life can only split you so many ways," she said, simply.
Now, as a soon-to-be retiree, Kirkland is making her childhood dream come true.
Three years ago, the mother-of-two picked up a paintbrush and spent months in front on blank canvases, listening to classical music and Adele, fine-tuning her creative vision.
She's finally found her voice and the arts community in Kansas City agrees.
Three pieces of her work are currently on display at the newly opened Johnson County Arts & Heritage Center.
Another piece has been accepted by the Albrecht-Kemper Museum of Art in St. Joseph, for its exhibit, "Solar Flair: Celestial Bodies in Motion," which will open Aug. 11.
Last week, Shawnee-based film production company DHTV shot a three-minute promotional video for Kirkland at Nieman Bay Coffee House, 11101 Johnson Drive.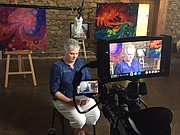 While she prepped for filming, the artist sat down with the Dispatch to discuss her work.
Her biggest excitement right now, she said, her eyes sparkling, is that she's going to retire on Friday.
For the past 35 years, Kirkland's career has not only included graphic design, but also being an award-winning art director and project manager for an internationally known publisher and several advertising agencies.
She's worked with pen and ink, soft media illustration, ceramic, metal, digital media, film art direction, and printmaking, among many others.
The 1980s was both a thrilling and daunting time to work in graphic design, she said, because the field went from drawing by hand to using a mouse in such a short period of time.
"Learning to create art with a computer was difficult for a lot of people in my field," Kirkland said. "Many people gave up. For me, it was simply another tool in the toolbox and now those skills allow me to do very interesting things with my art."
When her two sons left the nest, she realized it was time to seriously pursue her dream, since she had more free time to pour into her art.
"Facing a blank canvas after all those years wasn't scary because I've had to create on demand for years for my job," said Kirkland, who lived in Shawnee for 30 years before recently moving to Lenexa. "The struggle was actually learning to use paints again and exploring the different kinds available. There are so many, which makes it a bit of a challenge."
Finding herself as an artist again has been a lot of fun, she admitted.
Sometimes she'll meticulously design a concept; other times she'll throw color on a canvas and see where the adventure goes.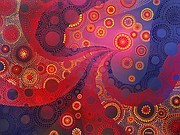 "I lose myself in the painting and everything, including time, just goes away," she said. "I'm not Buddhist, but it really does feel like zen."
The style of painting Kirkland has gravitated towards since her artistic resurrection is called "pointillism," a technique in which small dots of color are applied in patterns to form an image.
One of her recent paintings, "Channeling Vance," was created out of more than 7,000 dots, for instance.
She also loves to use bold, vibrant colors.
Often, her paintings take months to complete.
"As an artist, you're constantly evolving," she said. "Sometimes I'll look at paintings I did three years ago and I can see how much I've grown in that short period of time."
Her pointillism style is an homage to Kirkland's inspiration, Vance Kirkland, a 20th century painter from Colorado.
Kirkland said as far as she knows, she has no relation to the late artist, but she thinks it would be cool to do a little digging in her genealogy to find out.
But right now, she has more pertinent goals to chase.
"My dream is to have my own solo show one day," she said.