Garden Club of Shawnee to hold tour this weekend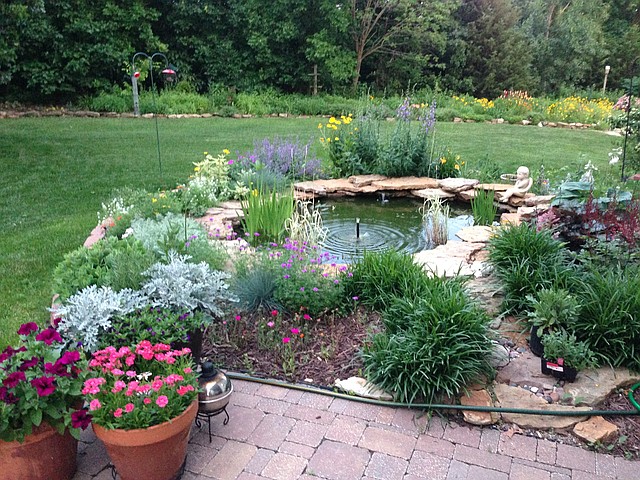 If strolling through a beautiful garden sounds like an ideal way to spend a relaxing summer afternoon, you might want to check out the upcoming Shawnee garden tour.
The biennial tour, hosted by the Garden Club of Shawnee, features six gardens throughout the city this year.
Held from 9 a.m. to 5 p.m. on Saturday, the self-guided tour will showcase everything from elegantly simple to more elaborate layouts.
When searching for gardens to feature this year, the garden club members purposefully looked for ones with unique designs and a variety of interesting plants.
"We wanted gardens where people can walk through them and think, 'Hey, I could do something like that!,'" said Carole Prentice, the garden tour chair. "We don't want people to feel overwhelmed. But at the same time, we wanted spectacular gardens."
After all, the tour is a great way for gardeners, or aspiring ones, to find inspiration.
"You can learn so much from a tour," said Janet Rossbach, the co-vice president of the Garden Club of Shawnee. "It's a great way to get ideas for your own garden.
Variety is key for the tour this year.
One of the gardens, the Riehle Garden, features a charming miniature railroad and nostalgic decorative accents.
Another one, the Roberts Garden, features a raised pond and waterfall filled with koi and goldfish, along with an impressive outdoor entertainment area.
In the Bradley Garden, you might even spot a fairy or two.
Tickets for the garden tour are $10 and may be purchased at the following Shawnee stores: Family Tree Nursery, Hartman Hardware, and Wild Birds Unlimited.
Tickets can also be found at the Family Tree Nursery in Overland Park and on the club's website at www.gardenclubofshawnee.org.
During the tour, people are invited to buy raffle tickets as well. The prizes from 25 businesses include everything from restaurant gift certificates to hand-crafted jewelry.
Proceeds from the garden tour are used for the club's grant program, which provides funds to Shawnee schools, churches, museums, and nonprofit organizations to support gardening projects.
Tour proceeds also help maintain the Shanna Morrison Memorial Rose Garden in West Flanders Park.
For more information about the garden tour, visit website.