Affordable fashion flies off racks at 'My Best Friend's Closet'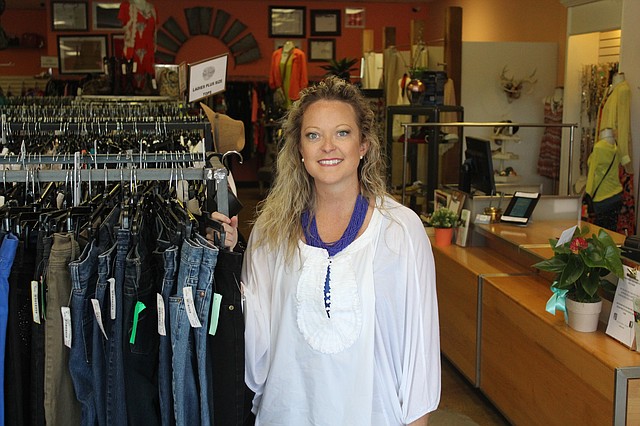 The name says it all.
Walking into Shawnee's newest fashion boutique is pretty much like stepping into your "best friend's closet."
Draped on hangers throughout the store is a huge variety of colorful, gently-used dresses, skirts, pants, blouses and swimsuits. Whether you're into boho glam or preppy chic, there are styles for everyone.
Coveted handbags and glittery costume jewelry also fly off the shelves at the consignment clothing store.
My Best Friend's Closet, 12152 Shawnee Mission Parkway, opened in April and it's already gained a faithful customer base.
With more than 200 clothing sellers so far, merchandise is constantly revolving.
"You never know what's going to come in that door," said Taylor Clark, the owner. "It's like Christmas every day and that makes it fun. It's exciting to see fashion trends change and see people unexpectedly find that one-of-a-kind piece."
Clark currently owns two My Best Friend's Closet locations. Besides the one in Shawnee, she also has one in the northland.
Her mom, who owns My Best Friend's Closet stores in both Platte City and Branson, started the business 25 years ago.
"I spent my childhood in this store, so I fell in love with fashion and I saw how a small business can have an amazing impact on the community," Clark said. "I was lucky enough that by the time I got into the business, my mom had already worked out a lot of the kinks."
Clark, who lives in De Soto, decided to open her second location on Shawnee Mission Parkway because of its heavy traffic and prime location between two major interstates.
"Shawnee is growing and the city really supports small business," she said. "At the ribbon cutting we recently had, I was astonished by how many people showed up. The community has been very accepting of us."
Most of the people who walk into her store do so because they saw it while driving down Shawnee Mission Parkway, or they were frequenting a business in the 10 Quivira Plaza shopping center, where the store is located.
Clark thinks it's helpful the store is located near so many women-friendly businesses, such as Sally's Beauty Supply and Starbucks.
The 3,000 sq. ft. store carries high quality brands and carries sizes from extra small to plus size.
New items are put on the floor each day and every 90 days, all clothes rotate out of the store.
"If an item doesn't sell, the seller can either pick it up for we'll donate it," Clark said.
Sometimes Clark and her employees get to play stylists if customers need help picking out an outfit.
Clark has helped everyone from a teenage girls to older women find the perfect ensemble for casual and formal occasions.
Not only is the store a fun place to shop on a budget or find a hidden gem, she said, but it's also a great way for people to make money.
My Best Friend's Closet pays 40 percent of the selling price for consigned items.
When brought to the store, clothing must be on hangers, however.
Clark said some of her sellers have been single moms using the extra cash to get by or parents using the money to help out with their kids' college tuition.
"I've heard some incredible stories," she said.
Clark already has a strong bond with the north Kansas City community and she's eager to be a familiar face in Shawnee as well.
One of her goals is to network with other small businesses on Shawnee Mission Parkway, to exchange tips and share advice.
Because ultimately, she encourages empowerment, whether that be within the business community or with her customers.
That's what her store is all about.
"It's about feeling beautiful and glamorous and being able to afford it," she said. "It gives confidence. I feel very lucky that part of my job is seeing the smiles on people's faces when they find something they love."
More like this story