Starting up in Shawnee
Two local startups selected for Kansas State's
LAB

program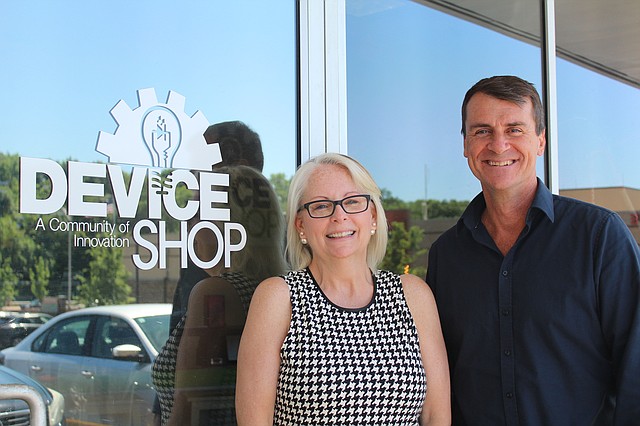 Just call Shawnee a hub of creativity and entrepreneurship.
After all, dozens of high-potential startups were in the running for Kansas State University's Launch a Business program, but only 11 were selected.
Two of them are from Shawnee.
Rob Rogers, owner of Print3 Technologies and Joan Hada, owner of MperVus, are participating in the the month-long summer program, which offers much-needed resources, faculty-led workshops, hands-on student research teams and access to the university's alumni mentor network.
The program is specifically intended for early-stage companies and provides the building blocks to turn each concept into a successful business venture.
At the end of the program, each participant will present their businesses to the public during a launch celebration.
The honor is one that will help boost each startup in the business world.
"The inclusion of two startups from our city in K-State's 'Launch a Business' program proves that innovation is alive and well in Shawnee," said Shawnee City Councilman Brandon Kenig. "We have many entrepreneurs conceptualizing ideas into early prototypes for viable products and services, but usually this quiet ingenuity occurs in garages, basements, and home offices, out of sight from everyone else."
The startups featured in the program this year include everything from lavender farming to Midwestern-style clothing.
For both Shawnee startups, technology is key.
Print3 Technologies will manufacture digital printing equipment to directly apply decorations on containers such as bottles, cups and jars. This reduces costs for short- and medium-run production while also enabling new-patented decoration methods to stand out on the shelf.
"There are over half a trillion bottles produced in the world per year and there's an opportunity for a significant percentage of them to move to digital printing," said Rogers, a Shawnee native. "Most bottles are labeled or screenprinted. Digital provides better quality and shelf appeal."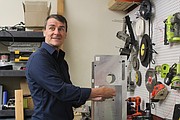 He currently has a prototype designed and he's getting parts made, with hopes to have a running product in around three months. In the meantime, he's securing patents.
The other Shawnee startup, MperVus, focuses on cyber safety.
Its concept is a patent-pending technology that securely stores data by randomly parsing, diffusing and storing it. This allows MperVus to securely protect data storage and use regardless of platform in an on-premise, hybrid, cloud or matrix solution.
"If data is hacked, what a hacker would get is so ambiguous, they wouldn't even know what they have," said Hada, a New Jersey native who moved to Shawnee four months ago.
Both Rogers and Hada are starting businesses with decades of experience under their belt.
Rogers, an engineer, dipped his feet into the ink-jet printing business while working for a printing press in the mid-1990s.
"It (an ink-jet printer) is one of the hardest things to design and that's why I love it," he said, with a grin.
Hada has been in the IT business for 35 years.
When she was 19, her mom took her to a career fair and encouraged her to check out the computer industry.
Although she originally wanted to pursue a career in fashion, Hada said she is able to use her creativity in the digital world.
"I love to think about how to help people and make technology easier," she said. "Sometimes when I create something, I think how it would be for someone like my mom or even my granddaughter to use it."
When she got accepted into the K-State LAB program, Hada said she was ecstatic.
She's excited about the opportunity to network with experienced businesspeople, potential investors and other startup owners.
"I feel like a door has been opened for me," she said. "As an entrepreneur, it can be isolating and lonely, especially as a woman in the IT field. That's challenging within itself."
She's also looking forward to the classes, which range in topics from business strategy to social media.
Rogers agreed the classes will be invaluable.
"A lot of people think what I do is hard but they don't realize engineering is the easy part," he said, with a laugh. "The struggle is all of those little pieces, like marketing a product or approaching investors."
Another challenge for both of them is starting up a business in the Midwest.
It's not as easy as if they were living in Silicon Valley, but the startup scene in the Kansas City area is drastically improving, they pointed out.
Even in Shawnee, startups are being embraced.
Rogers works in one of the city's innovation communities, The Device Shop.
The hub, 10316 Shawnee MIssion Parkway, offers workspace for rent to visionaries eager to turn their ideas into reality.
It features office space, workshops, and digital and mechanical equipment.
Having a spot, such as that one, is a bonus for any city, Rogers pointed out.
He is pleased that smaller cities, such as Shawnee, are embracing startups.
"Cities are starting to realize that the way to grow the economy isn't to just draw new businesses, it's also to support the ones already there," he said.
Kenig agrees.
The councilman told the Dispatch that the city's challenge is to encourage and nurture early startups, so those entrepreneurs remain in Shawnee and grow their businesses here.
"Entrepreneurs tend to relocate near other entrepreneurs, particularly those in complementary industries such as software or biotech," he said. "Supporting entrepreneurs with seed funding and space for operations results in a ripple effect, encouraging other entrepreneurs to launch their ideas or relocate here. These startups have the potential to grow into major local, regional, or national employers, in addition to transforming entire industries and services."
It's a win-win for everyone, Kenig added.
"Startups are responsible for the bulk of new job creation, and our success in attracting new residents and young families is entirely dependent upon having a dynamic economy where ideas can sprout into businesses that grow and thrive," he said.
Meanwhile, programs, such as the K-State LAB, help promising startups earn validation.
And that is perhaps the most valuable gain of all.
"You have to believe in yourself and your idea otherwise no one else will," Hada said.