Clean up begins after overnight storms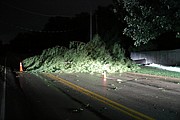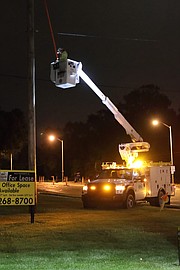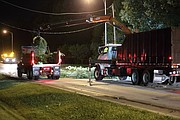 Overnight storms knocked out electricity to more than 5,000 in Shawnee.
Crews from Kansas City Power & Light and Westar Energy continue to work to restore service to all customers. As of 9:30 Saturday morning, KCP&L still has 977 customers without power. Westar Energy has just over 200 customers still without power. Westar says they will have all service restored by 5 p.m. Sunday. KCP&L does not provide any estimates of a restoration time.
The storms caused tree damage across Shawnee, prompting the city to open a branch and tree limb drop-off site on the southwest corner of Johnson Drive and Renner Road. The drop-off site will be open Saturday until 8 p.m. and will open again on Sunday from 8 a.m. until 5 p.m. The site is for Shawnee residents only and proof of residency will be required.
Overnight, Shawnee Public Works had crews out removing tree limbs and in a few cases, entire trees from the street. A large cedar tree broke at its base and fell onto Midland Drive just west of Red Oak Drive. The tree blocked both westbound lanes and more than half of the single eastbound lane. Public Works crews had the tree cut up, hauled away, and the road back open before 4 a.m.
Significant tree damage was also reported in the area of Wilder Drive and Clare Road. Public Works reported several trees and power lines down in the area.
No injuries were reported with any of the overnight storms.
The National Weather Service forecast calls for the possibility of additional storms in the area Saturday evening into early Sunday morning.
---
Operation 100 News provides overnight news coverage for the Shawnee Dispatch. Follow on Twitter for real-time updates.