Hotel nears completion of $4.5 million dollar renovation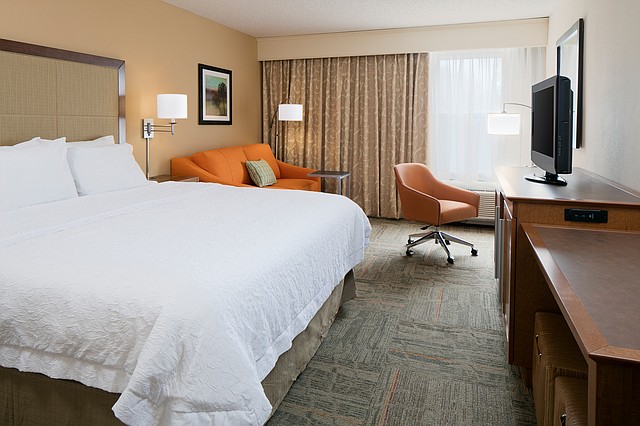 It's almost like a brand new hotel.
Hampton Inn Kansas City/Shawnee, 16555 Midland Drive, recently announced it is near completion of its $4.5 million dollar renovation.
Each of its 127 rooms have been modernized, with more aesthetically pleasing furniture and colors and technological advances.
The hotel's 1,875 sq. ft. meeting room, which accommodates business meetings and events, was also updated.
The renovation is part of the global company's forever young initiative, which strives to provide guests with accommodations that are multi-functional, modern, convenient and comfortable and compliments current initiatives like the Perfect Mix Lobby and JumpStart Fitness Center.
Renovations on the hotel began around three years ago, with the lobby initially getting a full-blown makeover.
The hotel's more hip look is a far cry from its original pink and turquoise theme.
This project is the first head-to-toe renovation on the hotel since it opened in Shawnee nearly 20 years ago.
"We're very pleased with how it's coming along," said Randy Bull, general manager.
He added that the remaining renovations include the hotel's pool and exterior. The goal is that those will be completed by the end of the year.
Last Thursday evening, Hampton Inn hosted a Shawnee Chamber Business After-Hours event to give an update on its renovation and showcase a couple rooms.
Many attendees were extremely impressed.
"It's exciting to see the reinvestment," said Kevin Fern, the executive director of Visit Shawnee. "This was the first hotel built in Shawnee, so to have a huge top to bottom renovation is exciting. It's also what you have to do these days to remain competitive in the hotel business."
When Comfort Inn & Suites and Fairfield Inn & Suites open this year and next year, respectively, there will be a total of five hotels in Shawnee.
While Shawnee might not seem like a booming tourist town, Fern pointed out that many hotels in the city get booked pretty quickly.
Hotels in Shawnee draw people coming to town for sporting events, business trips, and general tourism.
"Visitors don't see state or county lines," he said. "We draw people coming to events all over the Kansas City area."
Shawnee hotels offer quick access to some of the area's main attractions, such as Kansas Speedway, Children's Mercy Park Soccer Stadium, the Country Club Plaza and the Power and Light District.
The Hampton Inn Kansas City/Shawnee offers perks for its guests, such as an indoor swimming pool, fitness center and walking distance to popular restaurants such as Paulo and Bill, Barley's Kitchen and Jose Peppers.