Shawnee businesses honored at awards ceremony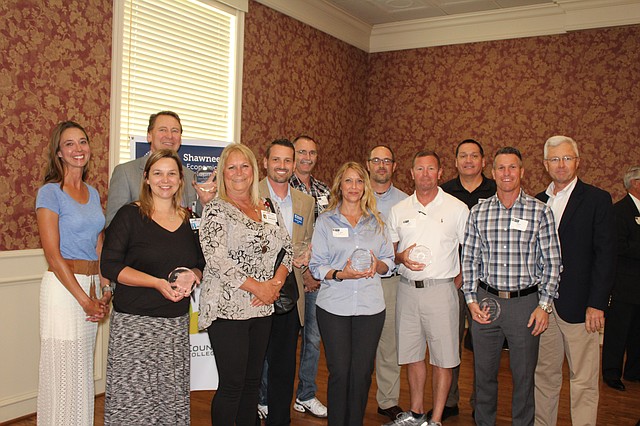 Over the past year, numerous businesses have helped boost Shawnee's economic development.
Last week, nine of those businesses were honored at the Shawnee Economic Development Council's Business Appreciation luncheon, with two awards honoring downtown businesses as well.
The luncheon took place last Wednesday at Shawnee Town 1929 Town Hall.
"For the past several years, millions of dollars have been invested in the community with industrial, office, retail and residential development," said SEDC Executive Committee Chair Leo Nunnink. "These annual awards recognize positive economic growth and developments during the past year."
The selection criteria for the Business Development Award includes having projects that were completed or nearly completed during the last 12 months that involved a capital investment of at least $1 million, and/or that created a significant amount of jobs in the community.
This year's Business Development awardees were:
Amazon: The E-Commerce giant will occupy 80,000 square feet in the Westlink Business Center building number two at 43rd Street and K-7 Highway.
The online retailer is expected to employ more than 100 people at the Shawnee facility.

B&B Theatres Shawnee 18: The facility underwent a multimillion dollar renovation in the Westglen development off Midland Drive.
The project represents an $8 million capital investment and created 20 jobs.
"We have been so excited to be part of the Shawnee community and see this theater transform," said Bob Bagby, president of B&B Theatres.
Centra Care Shawnee Mission Urgent Care: Created by a partnership between Centra Care and the Shawnee Mission Health system, the facility offers convenient urgent care close to home in Shawnee.
A board-certified physician, radiology technicians, nurses, prescriptions and labs are available on-site.
The project brought $2 million in capital investment and 10 new jobs to Shawnee.
CityWide Electric: Founded in Shawnee in 2000, the company provides electrical contracting services for projects that reach across various industries including commercial, industrial, residential, data and communications design build and more.
As a result of increasing growth, CityWide built a new 7,600 square foot facility at 59th Street and Barton in Shawnee.
The project added significant capital improvement to downtown and has allowed the company to grow to over 40 employees.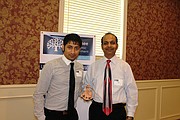 Comfort Inn & Suites: The new 65 room hotel, located at the northeast corner of Midland Drive and Renner Road, is expected to open later this summer.
The project has a wide impact by creating dozens of new jobs, adding to the tax base, and enhancing the transient guest tax fund by way of additional hotel room capacity.
"It's great to be part of a community that recognizes development," Dilip Patel, the owner, told the Dispatch. "This is a project dear to our hearts and we want to make Shawnee proud."
He added that there are two other projects in the works for that corner: a Fairfield Inn & Suites and a shopping center.
"Shawnee is a hidden gem in the Kansas City area," Patel said. "It's an area that is viable. We want to make that corner (Midland and Renner) look nice and bright forever."
Discount Tire: The company is America's largest independent tire and wheel dealer with more than 940 locations across 33 states.
This spring Discount Tire opened a new 7,800 square foot store just east of Shawnee Mission Parkway and Quivira at the former site of Arrow Rents.
The store offers a wide range of product choices, affordable pricing and expert staff and brings 15-20 new jobs with it.

Entrematic: It has expanded its Kansas production operations and warehouse space into Shawnee, and has leased 70,000 square feet in the Westlink Business Center building two.
The company manufactures and assembles several models of A-marr brand garage doors and created 60 new jobs at the Shawnee facility.
The Swedish company has operations in 25 countries and employs about 2,800 people. It sells products in 80 countries around the world.
Federated Rural Electric Insurance Exchange: The company is the leading provider of property and casualty insurance for rural electric cooperatives.
It built a new, two-story 36,000 square foot headquarters at 7725 Renner Road.
The $17,300,000 project will be bringing 60 jobs to Shawnee with a projected annual payroll of 3 million dollars.
Summers, Spencer & Company, P.A.: Due to expansion needs, the public accounting company relocated their Lenexa office to the BMO Harris Bank building on Renner Road in late 2016.
SS&C created 13 new jobs in Shawnee in 2016 and plans to continue that growth in 2017 and beyond.
Economic development efforts for downtown Shawnee were recognized at the luncheon as well.
Two companies were honored for their work in this area.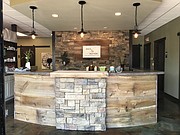 Back in Motion Chiropractic was presented with the Downtown Revitalization Award, which is given to a business that has made the most significant improvement to the appearance of a downtown commercial building in the last 12 months.
Back in Motion recently renovated and transformed a vacant 7-Eleven convenience store to a 2,700 sq. ft. medical office at the southeast corner of Johnson Drive and Nieman Road.
"Considering we started as a mom and pop, we're incredibly honored to be recognized next to all these companies who spent millions of dollars in Shawnee," said Kile Casper, a chiropractor at the clinic.
Her business partner and fellow chiropractor, Scott Harvey, agrees.
He told the Dispatch he's excited to be part of the positive changes occurring in downtown Shawnee.
"Downtown Shawnee is our home and we can't see ourselves anywhere else," he said. "Shawnee itself really is a little town in a big city where people know each other."
And sitting down the street from Back in Motion is Betty C's Bar & Grill, which was honored with the council's Downtown Impact Award.
The honor recognizes businesses that have made a significant economic, employment or visitor impact on downtown Shawnee.