Two Shawnee dentists merge clinics, establish friendship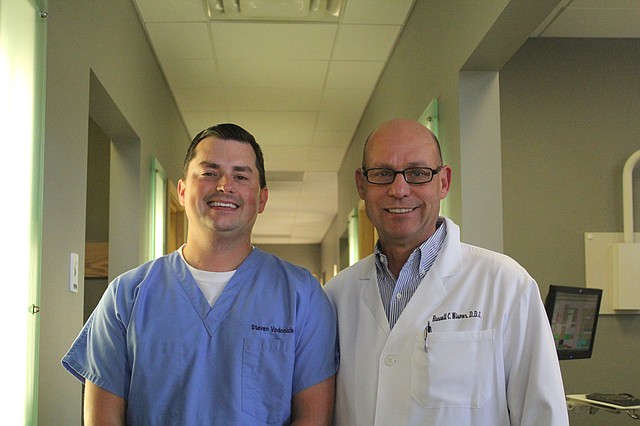 Two well-known Shawnee dental offices recently doubled in space and clientele by merging.
Legacy Dental, 6301 Pflumm Road, now consists of dentists Russell Wismer and Steven Vodonick, who combined their practices.
The office, which is in a bank building at the northeast corner of Pflumm Road and Shawnee Mission Parkway, was previously solely occupied by Wismer's practice, until Vodonick joined forces with him earlier this year.
Vodonick's clinic, Legacy Dental, had been at 57th Street and Nieman Road.
Together, the dentists now see around 5,000 patients.
Last month, their new clinic received a hefty renovation to allow for the merge.
Four treatment rooms were added, as well as a more modern sterilization space. A technology room for equipment, such as digital radiography for x-rays, was also built.
The additions nearly doubled the space of the clinic, which went from 1,800 square feet to 2,700 square feet.
Both dentists merged for different reasons.
Wismer, a familiar Shawnee face who has been in practice for 36 years, was looking for capable hands to take the reigns of his office, so when the day came for his retirement, his clients would remain in good hands.
Wismer insists he's not retiring anytime soon, but he felt it was important to be proactive.
Vodonick, on the other hand, needed more space and a more convenient location for his growing practice.
He started Legacy Dental nine years ago, right after graduating from UMKC Dental School. He went from seeing 500 patients to 1,800, making it a 20 percent growth per year.
Before the merge, the two dentists knew each other by reputation, but it wasn't until one of Wismer's former dental hygienists put them in touch that they realized how good a fit they'd be together.
Both men consider themselves gentle dentists who carry similar practice philosophies.
They also have a lot in common.
Both men are Johnson County natives, with Vodonick being a Shawnee Mission North High School graduate and Wismer growing up in Overland Park.
Both of them are also family men.
Wismer has a wife, two grown daughters and five grandchildren.
Vodonick married his high school sweetheart and together, they have three children under the age of 10.
Their fathers also played a role in their careers.
Wismer got into dentistry on the advice of his father.
"I was a good student and my dad suggested it," he said. "I really like that this job allows me to be more involved with my family because it's not as demanding as being a medical doctor."
Vodonick, who thrived at math and science as a kid, grew up admiring his father, an emergency room doctor. He knew some kind of medical field would be in his future.
"I like working with my hands and I definitely didn't want a desk job," he said. "I liked the idea of developing relationships with patients and creating long-lasting friendships.
"That's an aspect that is unique to dentistry."
Both dentists also went to UMKC Dental School.
The merge has allowed the two men to become good friends.
Vodonick said he looks forward to seeing Wismer at work every day.
"He (Wismer) is an incredibly kind, sensitive, honest individual who does very high end work," he said. "He has a good reputation and I kind of feel like the stars aligned to facilitate this."
The feeling is mutual.
"He's very gifted and intelligent and driven," said Wismer, of Vodonick. "He impressed me with his work ethic."
Wismer also appreciates how Vodonick brings expanded dental functions to the clinic, such as implants, root canals and pediatric care.
As Wismer's practice grew larger over the years, he had started referring patients to other specialists for those procedures.
Now, his patients are able to get more services under one roof.
Plus, having two dentists run a clinic is easier than just one, he added.
Running a business takes a lot of effort, Wismer pointed out, so having a second dentist in the office alleviates half of the stress.
Vodonick agreed.
"The landscape of dental care is changing," he said. "This type of office, with a single dentist, is hard to run and it's expensive."
Now that the merge and renovation is complete, the two men don't have any other goals other than to keep providing quality service to their patients.
After all, they agree, that is the most important aspect of dentistry.
More like this story