Mill Valley pushes past De Soto, St. James in Summer League doubleheader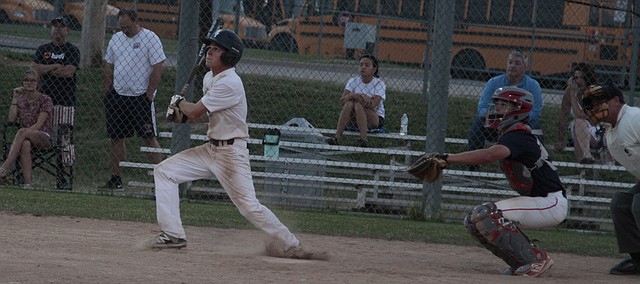 The returners on the Mill Valley baseball team know it won't be easy to replace a senior class that included eight college signees, but that isn't forcing the Jaguars to change their style of play this summer.
The Jaguars used their bread and butter of small ball and solid pitching to pick up two summer league wins over De Soto and St. James Academy on Wednesday at 3&2 West. Mill Valley defeated De Soto, 8-4, and stifled St. James, 10-3.
"It's been going well," senior Will Morris said. "This is just a time for everyone to get better and get to playing as a team after losing all of the seniors."
Morris was a fixture in the leadoff spot of the Mill Valley lineup last season, and is expected to be back there again next spring. The Mill Valley center fielder showcased his speed right away in the Jaguars' win over the Thunder, as he hustled down the line for an infield single and advanced to second on a throwing error. Morris eventually came around to score on a Cole Conner RBI single.
"I've been having a decent summer," Morris said. "I've been focusing more on my bunting and just getting on base and stealing bags, scoring runs — just basically my game."
With Morris and Johnathan Contreras providing some leadership at the top of the order, Mill Valley coach Jeff Strickland has been encouraged about how some of the younger players have been following the example that they have set throughout the summer.
"A big thing that we preach in our program and I think every high school coach does is doing things the right way and playing the right way. That's something that we continue to stress in the summer," Strickland said. "I know it's difficult because the kids are pretty tired because they play a lot of baseball in the summer, but it's something that we insist upon. Other good things are that we're seeing a lot of our younger players step up. You never fully replace kids that you lose in your program because every kid is a little bit different, but it's good to see these younger kids trying to replace them."
A few of the players who really stood out to Strickland in the Jaguars' victory over St. James were pitchers Brandon Rader and Clint Chappell — who will both be entering their sophomore seasons. Junior Josh Archer also threw four scoreless innings against De Soto.
"Rader didn't fantastic job. I actually thought he did better as the game went on," Strickland said. "That's great for a kid that's just going to be a sophomore. Then Chappell came in. He's a real bright spot on the bump."
While De Soto and St. James were unable to recover against Mill Valley after falling behind early, both teams feel good about how their summer league seasons have gone up to this point.
The Wildcats also had a couple of returners leading the way on Wednesday in Jack Barger and Darren Winans. They have made it a point to serve as positive influences to the underclassmen who are trying to find some time at the varsity level next season.
"It's been going pretty good," Winans, who paced the Wildcats with a two-RBI double in the fifth inning, said. "Our main focus has been improving and developing the younger guys, and I think we're doing a pretty good job of that. We're just making sure to get a lot of reps and figure things out that we need to polish up."
Winans added, "Especially in summer ball, things can get kind of monotonous and lackadaisical. As leaders, we're just trying to make sure everyone stays on task and comes out to play with an opening day mind-set. We work hard every day and don't take anything for granted."
Sophomore Dylan Nimrod is one of the younger players looking to take his game to another level during summer league, and he credited the varsity returners for helping him and several others get better.
"They're big mentors for us," Nimrod said. "We learn a lot from them and we couldn't ask for any better guys to be able to come back. They're definitely going to be a big impact for the team."
St. James took the field against the Jaguars following Mill Valley's win over De Soto, and did so with a squad entirely composed of JV and C-team players from last year. The Thunder are also looking to replace a group of talented seniors, six of which signed to play at the next level.
Junior Varsity coach Russ Wohlers said that the Thunder have been focusing on the fundamentals to improve steadily throughout the summer.
"I think it's been going really well," Wohlers said. "We're getting better every game, learning the little things and doing what we need to do to make ourselves better in the spring. We're just using summer to get better, and I feel it's going really well."
While seniors Blake Ripp, Cory Roshau, Casey Worley and Nick Modrcin did not suit up for the Thunder team that took the field against the Jaguars, Wohlers likes what St. James has in those four returning lettermen and is excited to see who else can join them at the varsity level.
"There are a few guys who are stepping up, but everything is really up in the air," Wohlers said. "We'll see what we've got. We use the summer just to really evaluate and see how much better they're getting through the winter and see what we've got in the spring."