Lady Eagles coast past Chargers in sub-state quarterfinals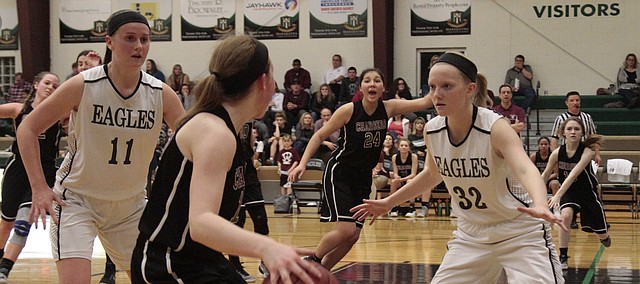 The Maranatha Christian Academy girls basketball team didn't have one of its better shooting nights in Tuesday's sub-state quarterfinal game against Heritage Christian, but the Eagles didn't need to in their 45-23 rout of the Chargers.
Maranatha used a 20-2 run that spanned four minutes in the first quarter, and closed out the third with a 15-0 spurt, but did the rest with its stifling defense.
"Our team is physical, and I love that," Maranatha coach Reggie Hines told his team after the game.
The No. 4-seeded Eagles (7-12) used a box-and-1 for most of the night with a variety of guards trailing Heritage Christian senior Alli Hamm. The Chargers' 5-foot-9 guard scored a team-high 11 points, but she was only able to put up eight shots and struggled to get her teammates involved.
"She is an outstanding player, absolutely," said Hines of Hamm. "That team is well-coached. Our girls took on a challenge. They knew that she was a top player, and they were excited about the chance to guard her and they went out and they did it. I'm really proud of them."
The Eagles looked primed to run the Chargers out of the building after a 3-pointer from Emma Powell put Maranatha up by 18 with two minutes to go in the first quarter. Maranatha's offense went silent, though, over the next 12 minutes, and Heritage Christian pulled back within single digits at 24-16 at the 5:52 mark of the third.
Hines called a timeout after the Chargers cut the Eagles' lead to eight, and his squad locked in defensively the rest of the way. The Eagles shut out the Chargers for the rest of the third, and Maranatha senior Kayla Crowder got the Eagles' offense going again to put the game away.
Crowder's offense came as a result of her lock-down defense, as she had a unique double-double with 12 points and 10 steals. The Maranatha senior also had seven rebounds and five assists.
"I think a lot of it comes from my teammates with the assists and them making the shots," Crowder said.
One of the best things for Crowder about the Eagles' win was that they were able to do it in front of a home crowd.
"I think it's awesome," Crowder said. "Just thinking of all the times in practice where we were running our butt off and just thinking that it paid off to give our fans a win."
The Eagles advanced to the 2A sub-state semifinals at 6 p.m. Friday at Valley Falls, where they'll take on No. 1 seed Jefferson County North (19-2).
"Our team is still getting better, and we still haven't peaked yet," Hines said. "We're just waiting for hopefully the next game, we'll hit our peak and we can maybe come out with another win."
Heritage (23)
Faira Fischer 0-3 0-0 0, Julia Edmondson 1-7 0-0 2, Riley Jarvis 1-5 0-1 2, Alli Hamm 4-8 1-2 11, Aysa Benally 1-9 0-2 2, Liliana Chiriboga 2-5 0-0 4, Allyson Brown 1-2 0-0 2, Abigail Tompkins 0-5 0-1 0. Totals: 10-44 1-6 23.
Maranatha (45)
Phoebe Hines 0-1 0-0 0, Kayla Crowder 6-14 0-0 12, Alyssa Buettner 2-4 0-2 4, Meggie Abebe 1-2 0-0 2, Molly Welch 2-5 0-0 4, Natalie Rehfeld 0-1 0-0 0, Morgan Wilcox 3-11 0-2 7, Shelby Adcock 0-7 0-0 0, Aailyah Buckner 0-2 0-0 0, Anita Eckhardt 2-5 0-0 4, Emma Powell 2-2 0-0 5, Maggie Friesen 3-11 1-1 7. Totals: 21-65 1-5 45.
Heritage 7 5 4 7 — 23
Maranatha 20 4 15 6 — 45
Three-point goals: Heritage 2-8 (Hamm 2); Maranatha 2-17 (Powell, Wilcox). Fouled out: None. Turnovers: Heritage 21, Maranatha 8.