St. James handles De Soto, turns attention to Aquinas for sub-state title game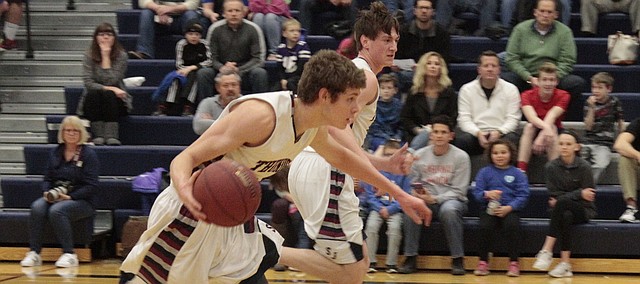 Lenexa — When the sub-state brackets were released, it was difficult for the players on the St. James Academy boys basketball team not to look ahead at a possible match-up with rival St. Thomas Aquinas on Saturday for a chance to move on to the Class 5A state basketball tournament.
However, St. James coach Stan Dohm made it clear to his players that they still had to take care of business on Thursday against De Soto in the sub-state semifinals. The Thunder answered their coach's call, as they coasted to a 71-30 victory over the Wildcats to set up the highly-anticipated sub-state title game against the Saints.
"That's kind of all we talked about all week when everyone saw the brackets. We stated the obvious that everyone wants to play Aquinas on Saturday and everybody is looking forward to that game, but if we don't win Thursday, it will be the greatest tragedy of all time," Dohm said. "We weren't allowed to talk about anything but Thursday until after the game, and that's what we're going to start talking about right now."
The No. 3-seeded Thunder (14-7, ranked No. 9 in 5A) spread the wealth offensively, as 10 different players scored. Senior Will Mckee led the way with 12 points.
"I think we just moved the ball really well," Mckee said. "Everyone was playing really unselfish. That's what led to everyone's low scoring, but pulling away with a big win."
Senior Spencer Kaifes opened the game with the first of the Thunder's nine 3-pointers. Mckee followed Kaifes' trey with a dunk in transition, and the rout was on. Kaifes hit all three of his 3-pointers in the first half to account for all nine of his points.
"Spencer got us started again in the first quarter," Dohm said. "He's been kind of our spark plug with making threes in the first to get us off to good starts, and he did that again tonight."
The No. 6-seeded Wildcats (5-16) had a hot start from the 3-point line as well, but they could not keep up with the Thunder. Ty Kempf, Levi Hansen and Noah Wilson all drained 3-pointers in the first quarter, but the Wildcats trailed 22-9 after the first eight minutes.
"I think that we didn't back down. It could have been better," De Soto coach Matt Rice said. "We were hoping for better than that."
While the sub-state semifinal loss to the Thunder was a rough way to go out for the Wildcats, Rice was pleased with how his team finished the regular season with wins over Louisburg and Baldwin.
"I would like to think that we took some really positive steps forward toward the end of the season," Rice said. "I know that these seniors wanted to finish the season in a positive way, and I'm really proud of them for working as hard as they did. We did some good things that we can build on for next year. We've just got to go to work in the offseason, that's for sure."
Thursday marked the final game for De Soto seniors Wilson, Kempf, Ethan Thurlow, Alex Wilcox and Chance Montgomery. Wilson led the Wildcats with nine points.
St. James will move to on to play Aquinas at 6 p.m. Saturday at STA. The No. 2-seeded Saints (17-4, No. 2 in 5A) advanced to the sub-state title game with a 62-40 win over Mill Valley.
Aquinas edged St. James, 80-78, in triple overtime on Dec. 20 at STA, and the Thunder returned the favor at home with a 70-62 win on Jan. 31.
The winner of Saturday's contest will advance to the 5A state tournament next week in Topeka.
St. James (71)
Zach Allinder 0-0 0-0 0, Josh Spradlin 1-1 2-2 5, Spencer Kaifes 3-4 0-0 9, Zach Thornhill 4-8 1-2 10, Casey Worley 4-7 0-0 10, Will Mckee 5-6 0-0 12, David Hornung 2-2 1-1 5, Jake Dunsmore 1-2 0-0 2, Kyle Dekraai 3-4 2-4 8, Jack Moellers 0-1 0-0 0, Sean Ziesman 2-2 0-0 4, Keenan Fitzmorris 1-3 4-6 6. Totals: 26-40 10-15 71.
De Soto (30)
Exavier Jackson 1-3 0-1 2, Levi Hansen 1-4 0-0 3, Chance Montgomery 0-1 0-0 0, Jared Baruth 1-5 0-0 2, Brannon Bell 1-3 2-2 4, Alex Wilcox 2-7 0-0 5, Ty Kempf 1-5 0-0 3, Ethan Thurlow 1-2 0-0 2, Tyler Barkemeyer 0-0 0-0 0, Noah Wilson 3-13 1-2 9, Grant Noll 0-2 0-0 0, Joseph Schnieders 0-0 0-0 0. Totals: 11-44 3-5 30.
St. James 22 19 20 10 — 71
De Soto 9 5 6 10 — 30
Three-point goals: St. James 9-14 (Kaifes 3, Worley 2, Mckee 2, Thornhill, Spradlin); De Soto 5-22 (Wilson 2, Kempf, Wilcox, Hansen). Fouled out: None. Turnovers: St. James 9, De Soto 11.
More like this story