Mill Valley's upset bid falls short in 46-34 loss to Aquinas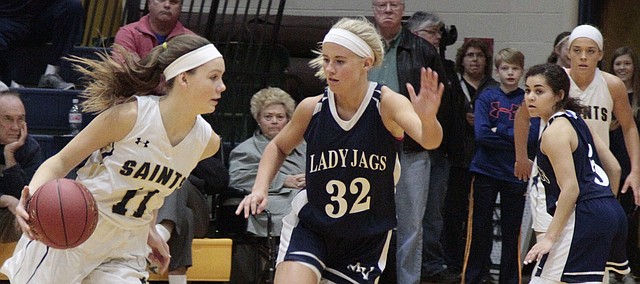 Overland Park — The Mill Valley girls basketball team put St. Thomas Aquinas' 22-year streak of going to the state tournament in serious jeopardy in the Class 5A sub-state championship game on Friday, but the Jaguars did not quite have enough in the second half of its 46-34 loss to the Saints.
The Jaguars (11-11) were all square with the top-seeded Saints (19-3, ranked No. 2 in 5A) at 20-20 going into the locker room, but Mill Valley never led in the second half.
Mill Valley remained within striking distance for much of the second half. Two free throws from Claire Kaifes with 2:35 to go pulled the Jaguars within 38-34, but the Saints made their free throws down the stretch to end the game on an 8-0 run.
"The kids gave it everything they had. They stuck with what we were trying to do," Mill Valley coach Drew Walters said. "Aquinas is going to play the possession game, and they're really good at it. You're not going to be able to speed them up, so it's kind of one of those things where you've got to play possession for possession with them and see where we end."
Kaifes led the Jaguars with nine points, with five of them coming from the charity stripe. Between Kaifes attacking the rim and feeding Evan Zars and Ashlyn Hendrix in the post, the Jaguars made it a point to get the ball inside in the second half with Aquinas forwards Allison Thomas and Sereena Weledji both fighting foul trouble.
Weledji was a big focus in the Jaguars' defensive scouting report, too, as they flashed double teams at her to limit her touches in the post. The 6-foot junior scored 12 points, but Walters was pleased with how the Jaguars kept her from having a breakout game.
"We had to do some things to help who was guarding her (Weledji) and (Alayna) Townsell," Walters said. "We had to really mix things up and dig on her. She's a great player, a very good scorer and very tough to stop so we had to try to limit her as much as we could."
Aquinas sophomore Blythe Pearson led all scorers with 13 points, and jump-started the Saints with two of her three 3-pointers in the first quarter.
The Saints and Jaguars' rosters are both loaded with sophomores and juniors, but Mill Valley senior Courtney Carlson felt that Aquinas' experience of playing in big games showed in the closing minutes.
"I thought we started off really good. We came in 20-20 at the half and were really hopeful, but it just kind of slipped away from us at the end," Carlson said. "I think that's where our lack of experience kind of kicks in. We didn't really know how to handle it. Overall, I was pretty happy even though it was a sad ending for us."
Carlson and Hendrix were the two captains for the Jaguars during the 2016-17 campaign, and Elena Artis was the third senior after transferring in from Shawnee Mission West. While Carlson would have loved to make another trip to the state tournament to wrap up her career, she enjoyed leading some of the team's younger players throughout the course of the season.
"They definitely stepped up," Carlson said. "I mean, coming from last year when Catie Kaifes was our main scorer, they really stepped up and contributed with boards, points, everything. They were most of our team."
With taking over a young team in his first season as the Jaguars' head coach, Walters was very appreciate of the leadership provided by Carlson and Hendrix.
"Elena came in this year. We worked her in as much as we could, but Ashlyn and Courtney were Lady Jag basketball," Walters said. "They represent that, and they've just been great for the program. They've been great players, and we'll miss them a lot."
While the Jaguars ended the season at the .500 mark, the Saints will move on to the state tournament next week in Topeka for the 23rd straight season. Aquinas will be anywhere from the No. 1 to No. 4 since Leavenworth, Maize and Schlagle are also 19-3. The 5A state bracket will be released at 10 a.m. Sunday.
Aquinas (46)
Molly Hartnett 0-1 1-2 1, Nicole Corrigan 1-2 5-5 8, Blythe Pearson 4-5 2-4 13, Alayna Townsell 1-5 4-4 6, Jakaila Morgan 0-0 2-2 2, Sereena Weledji 5-10 2-4 12, Allison Thomas 2-3 0-0 4. Totals: 13-26 16-21 46.
Mill Valley (34)
Presley Barton 0-5 1-2 1, Trinity Knapp 2-2 1-2 5, Claire Kaifes 2-11 5-6 9, Evan Zars 3-8 0-0 6, Elena Artis 1-1 1-2 3, Courtney Carlson 2-3 0-0 5, Ashlyn Hendrix 2-2 1-2 5. Totals: 14-32 9-14 34.
Aquinas 10 10 9 17 — 46
Mill Valley 11 9 4 10 — 34
Three-point goals: Aquinas 4-10 (Pearson 3, Corrigan); Mill Valley 1-8 (Carlson). Fouled out: None. Turnovers: Aquinas 9, Mill Valley 9.
More like this story