De Soto set to take on top-seeded Maize in 5A girls state tournament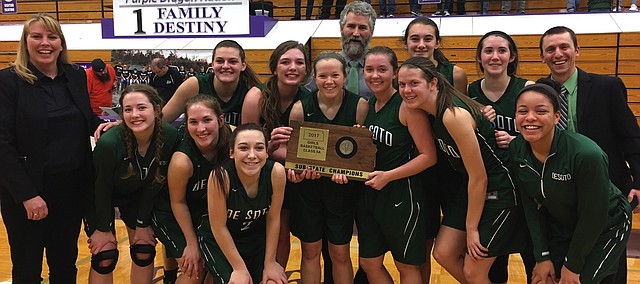 The De Soto girls basketball team knew it would be the No. 8 seed in the Class 5A state tournament after defeating Pittsburg, 45-34, on Friday in the sub-state title game, and on Sunday, the Wildcats learned who their first-round opponent would be.
The Wildcats (15-7) will play top-seeded Maize (19-3, ranked No. 3 in 5A) at 3 p.m. Wednesday to kick off the 5A state tournament at the Kansas Expocentre in Topeka.
"They are a really, really good team. We knew with those four teams that there wasn't going to be an easy game, and we certainly didn't draw an easy one with Maize," De Soto coach Ryan Robie said in a phone interview Sunday afternoon. "It seems like they've got a lot of senior leaders that have been there and done that and really good, athletic pressure defense. They let their defense dictate their offense. I think for us, just handling pressure and just finding ways to be able to get stops and keep them in the half court will be key for us."
De Soto upended St. James and Pittsburg in its sub-state tournament to return to state for the second straight season. However, this will be the Wildcats' first state-tournament berth as a 5A school.
"Last year, making it in 4A and then this year we turned around and we get bumped up to 5A. One of the things I've been stressing to our girls with 5A is that it's just deeper," Robie said. "There are a lot of really good teams. We talked about it and that it was going to be probably a more difficult road to get to state than it was last year, and it was. It definitely was, but it was our goal from Day 1."
The Wildcats had to fight through their fair share of adversity in their win over Pittsburg on Friday. De Soto led 13-12 at halftime, but did not score in the second quarter.
"We started off the game really well. We were clicking, we were making shots, we were defending really well and then Julia (Johnson) got into some foul trouble early again," Robie said. "That really again hampers us, and it changed how they defended Mariah (Grizzle). They were able to double down on Mariah a little bit more, and we just lost a little bit of our firepower."
De Soto's backcourt was also depleted after senior Sydney Jones went down with an ankle injury in the second quarter. Jones was unable to return, and Robie said she will be a game-time decision on Wednesday against Maize.
"We're probably going to keep her off of it for the next couple of days. She went into the doctor and no break or anything like that, but he wants her to stay off of it until Wednesday and go through pre-game and get a feel for it then," said Robie of Jones. "We're hopeful. We're optimistic that she'll be able to play, but we just aren't sure to what level."
With Jones sidelined, fellow senior guard Tanith Beal stepped up to lead the Wildcats against the Dragons with 17 points. Beal knocked down five 3-pointers.
"She was incredible. She was the primary reason why we won," Robie said. She started off and missed her first couple, and she is a kid that we have constantly all year long just tried to emphasize with her to be confident. When she's confident and she's feeling good about it, she's as good of a shooter as any that I've coached.
"When she missed her first two, our assistant coaches (Bruce Yarbrough and DeAnn Thaemert) did a great job of just continuing to reinforce with her to keep shooting it, keep shooting it, keep shooting it. When she hit one, we kind of all looked at each other like, 'Alright, we're about to get things rolling here.' She was huge."
The winner of De Soto-Maize will move on to face either No. 4-seeded Schlagle (19-3, No. 7 in 5A) or No. 5-seeded Salina Central (18-4, No. 5 in 5A) at 3 p.m. Friday in the state semifinals.
The other half of the 5A bracket features No. 2-seeded Leavenworth (19-3, No. 1 in 5A) against No. 7-seeded Newton (17-5, No. 6 in 5A) and No. 3-seeded St. Thomas Aquinas (19-3, No. 2 in 5A) against No. 6-seeded Bishop Carroll (18-4, No. 8 in 5A).