De Soto girls fall to Maize in 5A state quarterfinals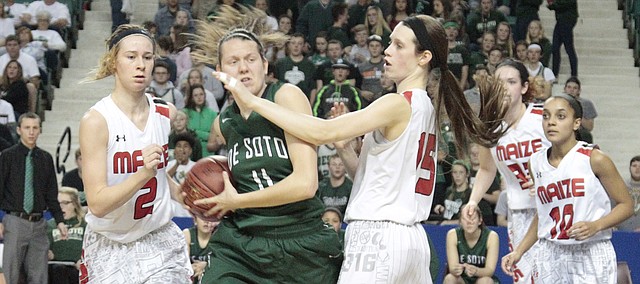 Topeka — De Soto girls basketball coach Ryan Robie knew from watching some film on Maize that the Eagles' athleticism would make them a difficult match-up for his team on Wednesday in the Class 5A state quarterfinals at the Kansas Expocentre.
The athleticism of the Eagles was most apparent with their active defense, as they forced De Soto into 32 turnovers en route to defeating the Wildcats, 51-17.
"It was a big factor. We knew that they would be long and athletic, and they try to get their offense based on their defense," Robie said. "They definitely did that tonight."
Headlining the Eagles' stifling defense was 6-foot senior Brecken Roe — who nearly had a triple-double with eight points, nine rebounds and nine steals.
The Wildcats' defense was also effective for much of the night, as they held Maize to 33 percent shooting from the field — but Robie was discouraged with the number of shots that the Eagles were able to put up.
"I thought defensively we were pretty good except for rebounding the basketball. They had 12 offensive rebounds, I believe, in the first half," Robie said. "That was one of our keys to victories was they get one shot. You give a good team like that two, three opportunities, they're going to you pay."
While Roe and Taylor Holmes (12 points) formed a dynamic duo in the Maize backcourt, De Soto was not quite at full strength on the perimeter. Senior Sydney Jones did play after suffering a right ankle injury in the Wildcats' sub-state final win over Pittsburg, but the 5-foot-10 point guard was scoreless and held to one assist in her 17 minutes.
Despite not being as effective as she had hoped, Jones said that the opportunity to still take the court with her teammates meant a lot to her.
"For me, it was just cherishing the moment and giving it all I got through the pain, and just giving my best to try to help my team out," Jones said.
For the second straight game, freshman Mackenzie Shupe saw an increase in minutes due to Jones' injury, and she took advantage of it again on Wednesday. Shupe scored a team-high six points on 3-of-9 shooting.
"She has really started to come along. She played really well in the Pittsburg game with Sydney down, said Robie of Shupe. "She just brings a whole different level of athleticism and dynamic, attacking, play-making ability. That's why she's here as a freshman. She's going to be a really good player for the next couple of years."
Shupe gave a large portion of the credit for being able to step up as a freshman at the varsity level to Jones and seniors Tanith Beal, Julia Johnson, Maddie Plake and Jackie Kennard for setting a positive example for her.
"They're like family, and we do everything together," Shupe said. "They're like my sisters."
The 5-foot-7 freshman guard was definitely not alone in saying how big of an impact that the five De Soto seniors have made during their four years with the Wildcats. Robie was overcome with emotion when describing how much that Jones, Beal, Johnson Plake and Kennard meant to him.
"They're a special group beyond the court. They have created what this program is now. That is not coaching," Robie said. "That is nothing but senior leadership, showing up every day working hard and putting the team first. For two years, they've done that. This program will hopefully continue to have success because of the foundation that they built."
The eighth-seeded Wildcats closed the season with a record of 15-8 after making their second straight trip to state. The top-seeded Eagles (20-3, No. 3 in 5A) will play No. 5 Salina Central (19-4, No. 5) at 3 p.m. Friday in the state semifinals. The top two ranked teams in 5A will square off in the other semifinal, as Leavenworth (20-3, No. 1) will take on St. Thomas Aquinas (20-3, No. 2) at 6:30 p.m. Friday.
Maize (51)
Brecken Roe 2-7 4-4 8, Kaylee Cheng 0-0 0-0 0, Caitlyn Stewart 3-5 1-3 7, Keely Hanson 0-0 0-0 0, Halie Jones 3-10 1-2 7, Alexis Cauthon 2-9 0-1 4, Avery Malloy 2-2 0-0 4, Taylor Holmes 2-7 8-11 12, Jaraiah Johnson 0-1 0-2 0, Autumn Hanna 2-3 1-2 5, Sydney Stauffer 0-1 0-0 0, Lauren White 1-6 2-4 4. Totals: 17-51 17-29 51.
De Soto (17)
Mara Montgomery 0-1 0-0 0, Mariah Grizzle 2-10 0-0 4, Tanith Beal 0-4 0-0 0, Sydney Jones 0-3 0-0 0, Alexandra Wilson 0-1 0-0 0, Linnea Searls 0-1 0-0 0, Ellie Bream 0-1 0-0 0, Mackenzie Shupe 3-9 0-0 6, Julia Johnson 2-9 1-2 5, Maddie Plake 0-0 2-2 2, Jackie Kennard 0-0 0-0 0. Totals: 7-40 3-4 17.
Maize 13 11 12 15 — 51
De Soto 2 6 4 5 — 17
Three-point goals: Maize 0-6; De Soto 0-13. Fouled out: Julia Johnson, De Soto. Turnovers: Maize 14, De Soto 32.