Spring forward, Shawnee
Garden Club of Shawnee offers spring gardening tips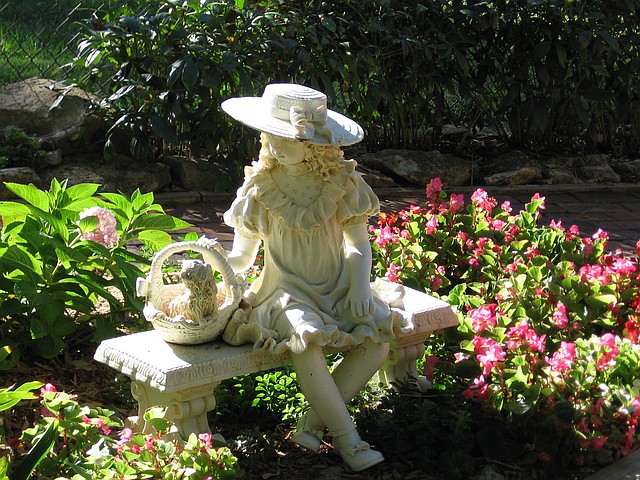 It may only be the first week of March, but spring-like weather has already flickered on and off in the Kansas City area like a light switch.
So, if you're teetering on when to start digging in the dirt for the spring season, the members of the Garden Club of Shawnee have a few words of advice for you: do it now.
The Dispatch recently sat down with Shawnee garden club members Dani Caspari, president; Janet Rossbach, vice-president; and Carole Prentice, garden tour committee chairperson to discuss gardening and upcoming activities the group has planned.
The ladies insist they are no experts, but they all agree one of the best aspects of being in a gardening club is sharing tips with friends.
"If gardening is your passion, you may think you know everything about it, but really there is so much more to learn," Caspari said. "It all comes down to trial and error and just being creative."
With the warmer weather already in full swing this winter, the ladies told the Dispatch burgeoning gardeners should prepare a bed of soil, with peat moss or compost, now and begin planting by April 15.
"But I wouldn't plant tomatoes until the beginning of May," Caspari added.
The unseasonably warm and dry weather in Shawnee lately is allowing gardeners more time to enjoy the sunshine, but it does come with its own set of problems.
"Without a cold winter, we're seeing a lot more insects," said Rossbach.
Caspari said the lack of moisture has also made it difficult for a lot of plants to survive.
"If you planted anything last fall, you should be watering it now," she said. "This lack of rain and snow this winter is very concerning."
All three women agreed one of the best resources for spring gardeners, whether you're a newbie or hobbyist, is the Johnson County K-State Research and Extension Master Gardener Program, which can be found online at www.johnson.k-state.edu.
Many helpful gardening tips and advice can also be found on the garden club's website at www.gardenclubofshawnee.org.
The Garden Club of Shawnee consists of around 50 members, of all ages and all gardening levels, from beginner to Master Gardener.
The club meets at 7 p.m. the first Thursday of every month at Shawnee Town Hall, 11600 Johnson Drive.
Topics at the meetings range from beekeeping to rose maintenance.
Sometimes seeds, plants and bulbs are exchanged.
Members of the Garden Club of Shawnee don't even need to be from Shawnee.
The club has members from Overland Park and Olathe as well.
When it comes to offering spring gardening advice, the members have a ton of suggestions.
Some are practical:
"Trim shrub roses in the early spring"

"Clip off dead blooms, as that will promote more growth and more flowers."

"For drainage in your pots, use baby diapers to keep soil moist."
Other advice is delightfully whimsical:
"Gardeners tend to look at their garden and see all the things that are wrong, as weeds, brown leaves, diseases etc. Be sure to always look for the beautiful aspects first, as blooms and buds, new growth and foliage. Gardens are always a joy, just look for those positives."

"In the fall when cone flowers are through blooming, leave heads on stems. The finches love these in the winter."

"In the spring, many people wonder when it's safe to prune their roses. Here's the tip: Prune your roses when the forsythia blooms."
The members of the Garden Club of Shawnee are always welcoming of new faces and they encourage anyone interested in learning more about gardening to attend their next meeting.
They also have a couple events coming up.
From 9 a.m. to 2 p.m. on April 1, the Garden Club of Shawnee will participate in the eighth annual Johnson County Healthy Yards Expo at the Shawnee Civic Centre, 13817 Johnson Dr.
The event features seminars on a variety of topics, ranging from native plants to water quality.
It will offer a free soil test and an opportunity for garden enthusiasts to chat with experts.
This June, the Garden Club of Shawnee will present its Garden Sampler Tour, which will feature six Shawnee gardens.
Proceeds from the tour are used for the club's grant program, which provides funds to Shawnee schools, churches, museums, and nonprofit organizations to support their gardening projects.
Tour proceeds are also used to maintain the Shanna Morrison Memorial Rose Garden in West Flanders Park.
For more information about the Garden Club of Shawnee, visit www.gardenclubofshawnee.org or visit the club's Facebook page.
More like this story