Kansas Wildfire Largest in State History: Multiple Blazes Leave Six Dead, Thousands Evacuated Across Plains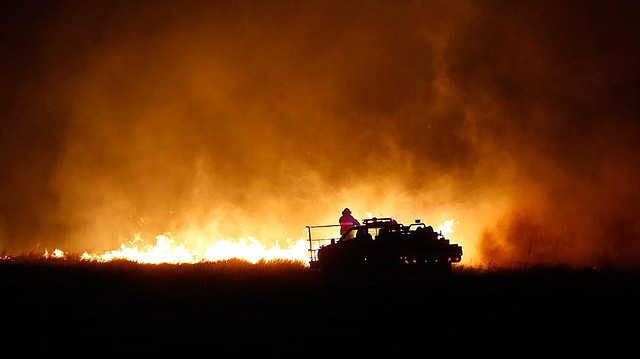 The wildfire spanning two counties along Kansas' southern border with Oklahoma is now the largest in the state's recorded history. The blaze is one of a series of fires fanned by high winds that contributed to the deaths of six people and forced thousands to evacuate across four Plains states.
Most of the burned land is in Kansas, where more than 1,000 square miles have gone up in flames. Emergency officials in the two counties said Thursday morning that fire is largely contained, with crews working to monitor hot spots.
Winds are expected to continue to drop, but Comanche County Emergency Manager John Lehman says the ground is "extremely dry," so it's possible the fire could re-ignite. In neighboring Clark County, emergency management spokeswoman Allison Kuhns says "frankly there not much left to burn."
The ranching community in the area has been hit particularly hard.
"It's pretty much a catastrophe," said Kansas rancher Greg Gardiner as he looked out on his charred land near Ashland, where he figures he's lost at least 500 cattle. "It's as bad as a mind can make it."
Here's what happening in each state right now.
Kansas
Wildfires have devastated thousands of acres of ranching country in the southwest corner of the state, where rancher Gardiner likened the scene to a battle zone: carcasses of dead cattle everywhere and badly burned bovine survivors that ranchers are mercy killing.
"A lot of people have gone out and run out of shells and come back to get more shells," said Gardiner, speaking by cellphone. "It's pretty grisly work out here right now, to be honest."
It is too soon to know yet how many animals perished. In Clark County, where Gardiner lives, ranchers so far have lost about 2,500 adult cattle and at least 1,000 calves, said Randall Spare, co-owner of Ashland Veterinary Center.
While cattle producers like Gardiner spent much of Wednesday assessing their losses, fire crews were still attempting to extinguish the blazes. Most of the burned land is in Kansas, where more than 1,000 square miles has been consumed in a series of blazes, including one believed to be the largest in the state's recorded history.
A tractor-trailer driver was killed Monday when his rig jackknifed as he tried to backup because of poor visibility on Highway 34 in Clark County. Corey Holt, of Oklahoma City, succumbed to smoke after getting out of his vehicle, the Kansas State Police said. Two SUVs crashed into the truck, injuring six people who were taken to hospitals, state trooper Michael Racy said.
About 30 structures have been damaged in the county, including some homes, said Kuhns. She said about half of the structures were damaged in or near the small city of Englewood, which was among two in the county that was evacuated.
Elsewhere, the largest evacuations were in Reno County, where 10,000 to 12,000 people voluntarily left their homes Monday night, said Katie Horner, a spokeswoman for the state's Department of Emergency Management. She said 66 people from the area were in shelters Tuesday in Hutchinson, which is 40 miles northwest of Wichita.
Among them was Shelley Wilson, who fled with her disabled son and pets from a blaze Monday that was encircling her farm outside of Hutchinson. She returned later that night with her adult daughter to retrieve her tractor.
"I don't know if I have a home to go home to," Wilson said at the shelter Tuesday as her daughter did her best to lighten her mood. "In case I needed to rebuild, I wanted to at least have my tractor."
Several hundred more people evacuated their homes in Russell, Ellsworth and Comanche counties, which are in central Kansas.
The Kansas fires forced the closure of some roads, including two short stretches of Interstate 70 in the central part of the state. A stretch of a U.S. 54 in southern Kansas's Pratt County also was closed Monday because of smoke from a fire near a cotton gin and surrounding grassland.
Texas
In the Texas Panhandle, three fires have burned more than 195 square miles of land and killed at least four people. One of the blazes near Amarillo threatened about 150 homes, while a larger fire in the northeast corner of the Panhandle near the Oklahoma border was only 5 percent contained as of Tuesday morning, according to Texas A&M Forest Service. That larger fire was responsible for a death on Monday, authorities said Tuesday without providing further details.
A wildfire in Gray County, which is also in the Texas Panhandle, killed three ranch hands who were trying to usher cattle away from the flames, said Judge Richard Peet, the county's head administrator.
Peet said 20-year-old Cody Crockett was on horseback and his girlfriend, 23-year-old Sydney Wallace, was nearby on foot as fire and smoke swirled around them in Gray County. Wallace may have tried to run at the last moment Monday evening but she couldn't escape the smoke., Peet told the AP. He says she died of smoke inhalation. Crockett suffered burns, as did 35-year-old Sloan Everett who also was on horseback. The bodies of all three were found close to one another.
A 25-year-old man died in the Texas Panhandle, while attempting to drive home Monday night when smoke from a separate fire enveloped him. Cade Koch was trying to get home to evacuate his wife away from the fire. His wife, Sierra Koch, told the Associated Press that they had learned just one month ago they were expecting their first child.
Forest Service spokesman Phillip Truitt said as many as four firefighters were hurt battling the fires Monday. He provided no details on their conditions Tuesday morning.
Oklahoma
A woman had a fatal heart attack while fighting a blaze in Buffalo Tuesday, reports the Associated Press. Officials say she was trying to keep her farm in Harper County from burning.

Oklahoma Forestry Services said 200,000 to 300,000 acres had been charred in Beaver, Harper and Woodward counties as of Tuesday.
Numerous residences and secondary structures were burned by a wildfire estimated to be 185,000 acres in size near Knowles and Gate. Several other fires were burning near Selman, Woodward and Empire.
The National Weather Service warned that anyone with respiratory problems should limit their time outdoors due to the smoke in the air.
Ash from the fires reportedly fell from the sky as far east as Oklahoma City even though they were burning more than 100 miles to the west of the city.
Colorado
In northeastern Colorado near the Nebraska border, firefighters lost ground to a blaze in rural Logan and Phillips counties. They had the blaze 90 percent contained Monday evening, but only 50 percent contained Tuesday, despite working overnight to douse hot spots and flare-ups. The fire has burned more than 45 square miles of land and destroyed three homes. Nearby residents were warned to be ready to evacuate if the fire advances toward them.
More than 70 firefighters from 13 departments battled the blaze, which was reported east of Sterling on Monday morning. The fire, which was driven by wind gusts of nearly 50 mph, jumped Interstate 76 and spread into Phillips County.