SM

North's Schneider named Dylan Meier-Get Busy Livin' Player of the Year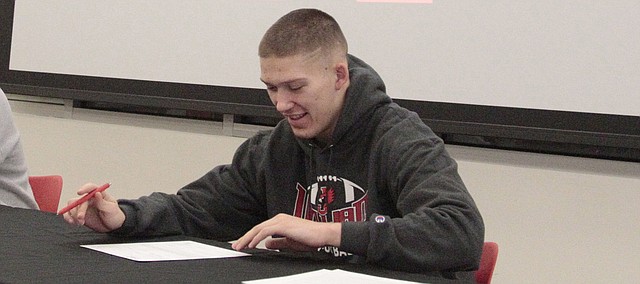 Shawnee Mission North quarterback Will Schneider earned his fair share of accolades after breaking the Kansas career state passing yards record in his final game with the Indians, but his most recent and meaningful honor that he received on Monday was not specifically for his play-making abilities.
Schneider was selected as the 2016 Dylan Meier-Get Busy Livin' Player of the Year by the Get Busy Livin' Foundation and Kpreps. The award was created in honor of former Kansas State quarterback Dylan Meier, who passed away at the age of 26 after a hiking accident in 2010.
"This is one of the biggest honors that I could possibly receive and I am very blessed! Thank you to the Meier Family! #getbusyliving," Schneider tweeted.
The William Jewell signee learned that he had received the award when he got a phone call from Meier's brothers — Kerry Meier (a former Kansas wide receiver and quarterback) and Shad Meier to tell him the news. The Get Busy Livin' award is presented to a Kansas high school senior who excels not only on the gridiron, but embraces the Get Busy Livin' foundation's pillars of adventure, fitness, curiosity and a daily zest for life experiences.
"I was ecstatic," Schneider told Mark Schremmer of Kpreps. "I was overcome with joy. When Coach (Ben) Bartlett told me he was nominating me for the award and I learned more about Dylan, I thought it was pretty neat. It was something I really wanted."
Other nominees for the award were Mill Valley's Joel Donn, Osborne's Cullen Grabast, Pittsburg's Elijah Harris, KC Turner's Jordan Martin, Fredonia's Isaac McPherson and Frontenac's Brandon Mlekus.
More like this story