Police seeking missing person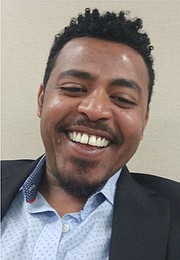 Shawnee Police are asking for the public's assistance in locating a missing man.
Dawit T. Tesfaye, 35, has not been seen since Thursday, March 2, 2017 at his apartment near West 75th Street and Quivira Road.
Mr. Tesfaye is a black male, about 5 feet 7 inches tall and weighing about 154 pounds.
Police say Tesfaye recently quit his job, does not have a vehicle and lives alone. His cell phone and bank account have not been active since March 2, the same day his family last heard from him.
No foul play is suspected in his disappearance.
According to the Shawnee Police Department's activity log, Mr. Tesfaye was reported missing on March 3.
Anyone with information regarding the whereabouts of Mr. Tesfaye is asked to call the Shawnee Police Department at 913-631-2150 or the TIPS Hotline at 816-474-8477.
---
Operation 100 News provides overnight news coverage for the Shawnee Dispatch. Follow on Twitter for real-time updates.