City celebrates Belgian immigrants with memorial
Immigrants brought Shawnee to life more than a century ago.
And now, a group of them are being celebrated.
From the 1880s to World War I, Belgians traveled across the world to settle in Shawnee, hoping to grasp the American dream of new beginnings and prosperity.
To capture those immigrants' historical significance, the city of Shawnee will soon have a picturesque memorial unveiled at West Flanders Park, which sits near 55th Street and Nieman Road.
West Flanders Park is one of three sister-city parks in Shawnee and it is the only one dedicated to Pittem, Belgium.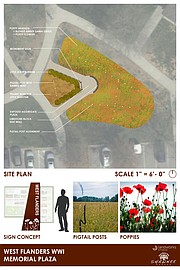 The memorial will consist of a large metal interpretive sign, with two main areas for text and photographs.
It will also have a poppy field planted in front and around it.
The significance of the poppies is a solemn reminder of beauty arising in the midst of despair.
According to the website, www.greatwar.co.uk, it was during World War I when vibrant red poppies began to bloom sporadically on the battlefields of Belgium.
The sight was so beautiful and unbelievable, it inspired Canadian soldier John McCrae to pen the poem, "In Flanders Field."
That poem will be displayed on one side of the metal sign at West Flanders Park. The other side will pay tribute to the city of Pittem, the region of West Flanders and the historic Belgian immigration to the United States.
The sign will also feature historical information on the role both West Flanders and the indigenous poppy flower played in symbolizing World War I, which lasted from 1914 to 1918.
The poppy field will feature iron corkscrew fence posts, originally intended for barbed wire, which are actual artifacts from the West Flanders battlefield at Ypres, only 23 miles away from Pittem.
The memorial is the vision of Charlie Pautler, the director of Shawnee Town 1929.
He came up with the idea as a way to pay tribute to the United States' entry into World War I and also as a way for the city to recognize its beginnings.
"Those immigrants aren't talked about that much anymore, but if you look in a phone book, you'll still see a lot of Belgian names in Shawnee," he said. "This is a nice way to interpret their contributions to Shawnee's history."
He pointed out that Belgian farmers helped create the truck-farm culture in Shawnee during the 1920s, which is celebrated by the Shawnee Town 1929 museum.
The memorial is set to cost $10,000, with much of the work being donated, or paid for by the city. The metal sign and stonework will be funded through donations.
It's hoped the memorial will be ready for dedication in September, when Pittem residents visit Shawnee.
Pautler hopes the memorial will inspire people to learn more about Shawnee's history.
"Even if you're not Belgian, you can still appreciate the significance of these hardworking people who gave up everything to come here," he said. "It is the ultimate immigrant experience, much like the ones you see today. These people made Shawnee what it is today."City celebrates Belgian immigrants with memorial