Shawnee Chamber of Commerce names new board chairperson
The Shawnee Chamber of Commerce recently announced Overland Park resident Brian Brown as the 2017 board chairperson.
He served as chair-elect in 2016 and has been a member of the board since 2013.
A life-long Johnson County resident, Brown obtained his Bachelor of Science degree in Engineering from Kansas State University and earned a Master's degree in Business Administration from the University of Kansas at Lawrence.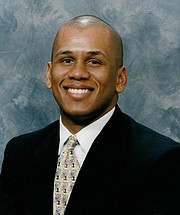 In addition to his education at Kansas State University, Brown also played football and ran track for the Wildcats.
Brown left mortgage banking and began his second career in healthcare in 2006.
His extensive healthcare background includes his current role as director of post acute business development for TeamHealth, and leadership roles at Sharon Lane Health Services, and the Transitional Care Resource Group.
In addition, he was named a Future Leader of Long-Term Care by American Healthcare Association, based in Washington, D.C.
He is involved in a number of civic and community organizations.
Brown currently sits on the board of directors for Aquinas Home Health, UCS of Johnson County, Kantorei of Kansas City, City Wide Senior Professionals and the Shawnee Chamber Foundation.
In his free time, Brown enjoys golfing, spending time with his wife and three children, and living out the mission of Rotary International "Service Before Self."
"I am honored to serve as Chairman of the Board of Directors this year," said Brown. "I look forward to leading an extremely talented and dedicated group of individuals on our Board as the Chamber seeks to continue its positive impact in the areas of economic development, tourism, government advocacy, and workforce development in the City of Shawnee."
In addition, the chamber has also announced members of the Board's Executive Committee. Dennis Monahan, Central Bank of the Midwest serves as chair-elect; Heidi Thummel, GBA-Architects and Engineers is treasurer; and Tim Deves, Edward Jones serves as past chair. Chamber President | CEO Linda Leeper is also a member of the Executive Committee.
Established in 1946, the Shawnee Chamber of Commerce is a membership organization with more than 650 members that works to preserve the best possible business climate and quality of life for Shawnee.