Sowing seeds of compassion
Shawnee church seeks volunteers for its food pantry garden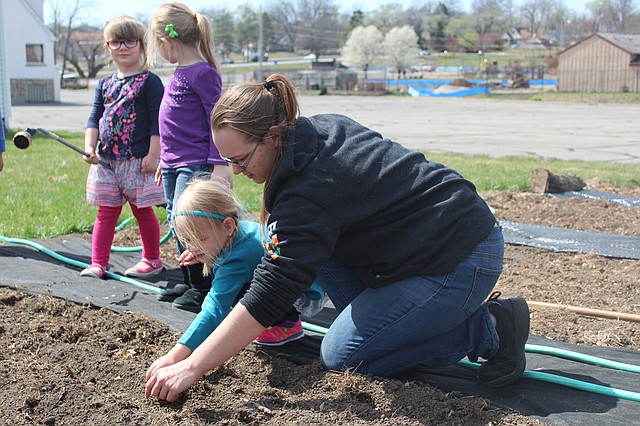 On a sunny, breezy Thursday afternoon, a smattering of playful preschoolers planted seeds in the community garden at First Baptist Church of Shawnee.
The little boys and girls dug their hands in the dirt and they eagerly learned how to spray water from a hose.
But the biggest lesson of all extended beyond soil, plants and some gardening tools.
The church's garden is an interwoven tale of giving, spirituality and community.
After all, it's a food pantry-inspired garden.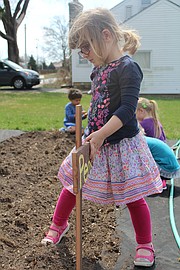 Organizers at First Baptist Church of Shawnee, 11400 Johnson Drive, created the garden last spring as a way to help those who need it most.
On a large plot, volunteers planted onions, carrots, peppers, beans, zucchini, cucumbers, eggplants and tomatoes.
Church members donated gardening equipment, such as a wheelbarrow, rototiller, money for seeds and plants, as well as other tools.
By October, the church had already donated over 1,000 pounds of produce to families in need.
This year, they hope to continue that success.
"This is our opportunity to see people in the community face-to-face and get to know them," said Jason Clough, worship pastor for First Baptist Church of Shawnee. "We ask if we can pray for them and we show them they are loved. It is such a blessing to be able to help others."
Right now, the church is in the midst of recruiting more volunteers to tend the garden.
Plants this year will include leafy greens, broccoli, onions, beets, turnips, carrots, sweet potatoes, squash, peppers and tomatoes.
Boxes of produce are donated to area families in need, who are recommended by church members and schools.
When there is an overabundance of produce, it will be donated to local food pantries, such as Shawnee Community Services, or offered to church members.
Garden coordinator Katie Reimer predicts this year, there will be plenty of food for everyone.
"I've gardened a lot and this is one of the most successful gardens I've seen," she said.
She pointed out that last July and August, the garden was so bountiful, volunteers were picking 100 pounds of tomatoes per week, and those were just the nice ones.
This year, the church has also added smaller plots, which families can reserve for a donation.
"We're a lot more organized this year," Clough said. "Last year it was a little overwhelming. We had to put our faith and trust in God to help us."
Like last year, the church hopes to continue drawing members of the community to help out with the garden.
So far, the church already has a troop of Girl Scouts, and a Boy Scout working toward his Eagle honor, coming out to volunteer.
Garden organizers also hope families who benefit from the donations will keep an open mind in terms of faith.
The garden is just as much about meeting people's physical needs, as it is their spiritual needs, said Reimer.
"Sometimes people don't want to come to church because of a bad experience in the past or a preconceived notion," she said. "This is a way to meet people outside the building. Food is common ground."
Clough agreed.
He said last year, very special relationships and conversations arose as a result of the garden.
"We know some people are broken and hurting and devastated for so many different reasons, so to be able to say God loves you and isn't giving up on you, without judgment, is powerful," Clough told the Dispatch.
They emphasized, however, that there are no strings attached for families receiving donations. There are no requirements for recipients to attend First Baptist Church of Shawnee or engage in spiritual conversation.
The option is simply there.
Anyone in the community is welcome to volunteer to tend the garden.
Reimer requests those interested should contact her at kreimer@fbcshawnee.com. She meets with volunteers at least once, to show them where gardening equipment is stored, and after that, they are free to tend to the garden whenever it fits their schedule.
There are also scheduled gardening days which will be held.
For more information on those days, visit the garden's Facebook page, titled, "FBC Food Pantry Garden."
If you want to recommend a family needing food assistance, or if you have other questions, call the church at 913-268-6500 or e-mail the church at mission@fbcshawnee.com.
More like this story