Shawnee Mission school board names Southwick interim superintendent
Hoping to make a smooth transition after superintendent Jim Hinson announced his retirement last month, the Shawnee Mission school board has chosen a temporary leader to fill his shoes.
At a special meeting last week, school board members unanimously voted to name Kenny Southwick as the interim superintendent of the district, effective July 1.
Hinson's last day on the job is June 30.
Southwick, currently the deputy superintendent, is no stranger to leading a school district.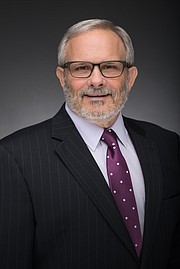 He has 37 years of education experience under his belt and he is a familiar face in the Shawnee Mission community.
Before joining the Shawnee Mission School District (SMSD), Southwick served the Belton School District for 22 years, with 12 of those years as superintendent.
He became deputy superintendent for SMSD four years ago.
"I am honored and humbled the Board of Education has selected me to lead the team through this time of transition," Southwick said. "Our focus will continue to be on our students, staff, parents and community. Great things happen everyday in our classrooms. Our job is to continue to ensure every student reaches their full potential."
Sara Goodburn, president of the district's board of education, said Southwick was a good fit for the upcoming transition.
"We believe Dr. Southwick is a visionary and will be a great leader for our staff, students and community during this time of transition," she said. "His dedication to our district over the past three years is proven. With our innovative curriculum, signature programs and state-of-the-art facilities, our district has never been stronger."
Southwick added that the district's first priority is to close a successful school year for teachers and students.
He also pointed out that in June, the district will have a new funding formula from the state that will allow administrators and board members to prepare for the new school year.
Following the completion of those top priorities, the board of education will begin the search for a new superintendent.
The proposed timeline for that search is as followed:
July to Aug.: The district will review and select an appropriate search firm.
Sept. to Oct.: Community engagement surveys will be conducted
Oct.: A search firm will present community survey results to the board
Nov. to Jan.: Superintendent candidates will be recruited
Feb. to March: Candidate interviews will be conducted
March to April: A new superintendent will be selected
When it comes to finding a new superintendent, many board members agreed getting public input was key.
Teachers, administrators, students and patrons will be surveyed for the search and asked in-depth questions to build a profile on what the community would like to see in a new superintendent.
"I think it's always been our goal to get as much feedback from the community," said Shawnee Mission school board member Cindy Neighbor.
Goodburn agreed. She's hopeful the search will end well.
"We feel confident the district will attract top talent, so we will continue to offer the very best education possible to all students," she said.
More like this story