SMNW

's Brull wins butterfly at Sunflower League meet.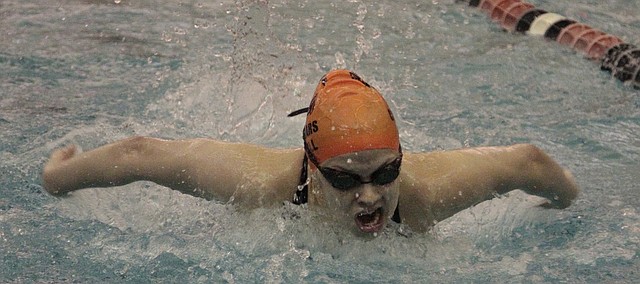 Olathe — After being edged by Lawrence High sophomore Emily Guo for first place in the 200-yard medley at the Sunflower League swim and dive meet on Saturday, Shawnee Mission Northwest senior Hailey Brull would not be denied when she returned to the pool for the 100-yard butterfly.
Brull won the event with a time of 57.16 — shaving nearly two seconds off of her time from Friday's preliminaries.
"It was pretty good. I went out kind of slow, so I definitely tried to make it up in my back half," Brull said. "I thought it went pretty well — 57.1. I only added like a second (from personal-best), so hopefully at state I'll pull it together go for a best time."
The Omaha signee clocked in at 2:10.57 in the 200-yard IM. Brull didn't feel as confident about her performance in the IM compared to the butterfly, but she knows what she has to work on going into the state meet in two weeks.
"The IM was a little rough, but I definitely need to work on my back half," Brull said. "I lost it pretty much on my freestyle. I'm definitely going to focus on my freestyle more and not giving up."
Brull also anchored the Cougars' fifth-place finish in the 200-yard medley relay team, which included freshman Bailey Cavin, and seniors Carlee Dubbert and Haley Nunnink. The Cougars clocked in at 1:46.51.
"It was awesome. It was such a great experience," Brull said. "Everybody was super positive going into it and out of it. I love my teammates and especially doing relays with them. It makes me super happy. Right beforehand, we were like, 'Our goal is to get fifth place and drop time,' and that's exactly what we did so I couldn't be any happier."
The final medalist for the Cougars was sophomore Celeste Gordon, who took third in the 1-meter dive with a score of 339.60. Northwest finished eighth in the team standings with 74 points — just one tally behind SM West for seventh.
Merriman leads SM North
Shawnee Mission North junior Joely Merriman garnered third-place finishes in the 200-yard and 100-yard freestyles.
Merriman posted a time of 1:56.73 in the 200 free, and 54.15 in the 100 free.
The SM North junior also anchored the Indians' 200-yard freestyle relay team — which included sophomore Brooke Howard, junior Eliza Roubinek and senior Tessa Poterbin — to seventh place.
The Indians placed 11th in the team standings with 48 points.
More like this story