Thirty seniors recognized at Mill Valley signing day ceremony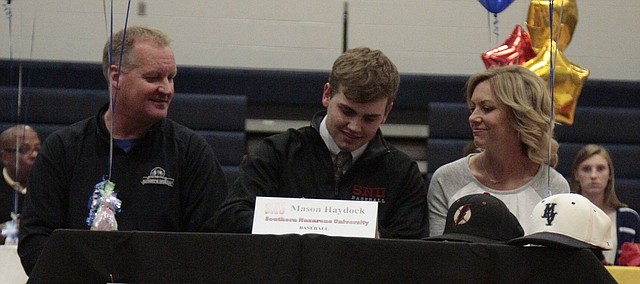 With graduation quickly approaching, 30 Mill Valley student-athletes moved one step closer to competing at the next level at Tuesday's signing day ceremony.
Eight of the Mill Valley seniors that were recognized at the ceremony have guided the Jaguar baseball team to a 12-5 start this season. The celebration at the signing day ceremony carried over to the field for the Jaguars, as they roared to an 8-1 victory over St. James Academy.
"It's really special," Hunter Paxton, a Kansas City Kansas Community College signee, said. "I believe this is the most Mill Valley has had sign for baseball. I think we've got a pretty good staff this year."
The duo of Brady Garrison and Luke Sosaya — who will remain teammates at Neosho County Community College next fall — combined for seven RBIs. Sosaya belted two home runs to lead the Jaguars.
While the Jaguars took a step backward on Friday and Saturday with losses to Andover Central and Maize South in the Spartan Roundball Classic in Emporia, the weekend ended with some exciting news for Garrison, Sosaya, Paxton and Dawson Cantwell — a Fort Scott CC signee — after their future schools punched their respective tickets to the NJCAA district championship tournament, which will take place Friday-Tuesday in Wichita.
Jack Blancarte, a Cloud County CC signee, will join Garrison, Sosaya and Paxton in the Kansas Jayhawk Community College Conference. Mason Haydock (Southern Nazarene), Jack Campbell (Central Arkansas) and Jackson Flack (Ottawa) rounded out the eight Mill Valley baseball signees.
While baseball led the way with the most signees, soccer was close behind with six. Haley Freeman (Central Missouri) and Kacie Kinley (Oklahoma) are the lone two seniors on the Mill Valley girls soccer team, but they've led the young Jaguars squad to a 9-3-2 start to the season.
"We didn't have as much team chemistry going into the year, but this year we've really focused on playing as a team and working as a defensive unit," Freeman said. "That's what has really been our motivation is to just stay together and just bond on the field and off the field so that our relationships on the field are the same off the field."
Freeman will join a Central Missouri program that has notched three straight appearances in the NCAA Div. II quarterfinals with 21-win seasons. The soccer team wasn't the only perk of Central Missouri for Freeman, though.
"I absolutely loved the campus, and they have what I want — which is general business. So that wasn't a hard choice," Freeman said. "I love the coach. The team has such a great atmosphere, and I love what the coaches are doing with them. They're going for a national title at the Division II level. I'm really excited to be a part of that team and go for that goal."
The Jaguars' offense has revolved around Freeman, while Kinley has guided the Mill Valley back line from the center back position. Kinley will look to contribute to an Oklahoma squad next fall that reached the second round of the NCAA tournament in 2016.
"I looked at a variety of other schools and I spent the most time at OU and I spent the most time with the girls," Kinley said. "It really felt like a better fit than any other school just with the environment they create with the girls."
While Mill Valley senior Charlsey Seidel is not playing high school soccer this spring, she will continue her career at Evangel. Seidel, who plays for the KC Courage club soccer team, will try to help the Crusaders build off of a 5-13 campaign from last fall. Evangel is going into its third season as a program.
Three Mill Valley boys soccer players joined Seidel, Kinley and Freeman at the ceremony, as Spencer Butterfield, Tyler Ciston and Ethan Doyle will prolong their careers at the collegiate level.
"It was really cool. I've been playing sports with a lot these guys for the past seven, eight years almost," Butterfield said. "Not even just soccer, but sports in general. It was really cool to watch them all sign at respective universities today. It was a cool experience."
Butterfield will head to Wisconsin-Platteville, which posted a 12-6 record last season.
"The program has been doing really well," Butterfield, who plans to major in engineering, said. "It's one of the best programs in Division III. That's one of the reasons I was drawn to it because the coaching is really nice and the team is kind of like a family, so I was attracted to it."
Ciston and Doyle will play at the NAIA level next fall. Ciston will join a MidAmerica-Nazarene squad that went 16-4-1 and reached second round of NAIA tournament in 2016. Doyle will take his talents to Concordia (Neb.), which went 11-7-2 last season.
Jakob Coacher, a former Mill Valley soccer player, was one of five track and field athletes to be recognized at the ceremony. The senior distance runner signed his letter of intent with Pittsburg State, and has enjoyed his experience on the Mill Valley track and field and cross country teams.
"It's been awesome. My first two years I played soccer, and then they finally got me into cross country," Coacher said. "The last two years running cross country has been awesome. Then the relays are so fun to run with those guys."
Coacher hasn't had the chance to meet too many of his future college teammates yet, but he's equally excited for the educational experience he'll get at Pitt State.
"I'm really interested in constructional engineering, and Pitt State has a really good constructional engineering program," Coacher said. "That's what really brought me into it."
Four girls from the Mill Valley track and field team will be competing at the next level, including Megan Eckman — who will join Coacher at Pitt State. The Pitt State women's track and field team coasted to an MIAA outdoor championship over the weekend, while the men's team took fourth.
Eckman tied for second in the high jump at the Shawnee Mission North Relays on Friday, while teammate Morgan Thomas — who signed at Baker for track and field and volleyball — won the event. Baker took seventh at the Heart of America Athletic Conference outdoor meet last weekend, while the Wildcats volleyball program posted a record of 12-20 in 2016.
Thomas will show off her versatility in both programs, as she will compete in the heptathlon in track and field and be a six-rotation player on the volleyball court.
"I like volleyball because I like playing on a team with other people and just getting to know a big group of girls," Thomas said. "Track is individual, but you're still working together as a team to get points and stuff. You can focus on yourself, too, at the same time. It's just really cool."
Hannah Pasley will join Thomas in competing at the NAIA level when she goes on to compete at Ottawa as a thrower for the Braves track and field team. The Ottawa women placed fifth at the KCAC outdoor meet last weekend.
Mill Valley thrower Gabby Hopkins will also wear yellow and black at the next level when she competes for Wichita State.
"I got a real family feel. I feel like if I go there, I can improve," Hopkins said. "I want to go there and kind of set the record for the university and make it something else — make it better. I like the coaches. I like the school. I just feel like I'll get better there."
The Shockers will compete at the Missouri Valley Conference meet next weekend. Hopkins has the goal of being at her future home track and field facility at the end of the month for the state track and field meet at Wichita State's Cessna Stadium.
"They kind of had an advantage the entire time because every year going there for state I was like, 'This would be a cool place to go. I like this,'" Hopkins said. "They started recruiting me and I was like, 'This is probably the place I'm going to be.'"
As the school-record holder in the shot put, Hopkins is hoping to close her high school career as a state champion — just like four other Jaguars who were recognized at the signing day ceremony did.
Dylan Gowin had planned to conclude his wrestling career as a state champion in February until the University of Nebraska came calling. Gowin had tentative plans to go to Kansas State to become a doctor, but the Mill Valley wrestler will now join a Cornhuskers team that took ninth at the NCAA Championships this season.
Three key players on Mill Valley's back-to-back state championship teams will look to continue their winning ways at the college level. DJ Graviette will join a Benedictine squad that went 7-4 last season, while Keegan Zars (Missouri Western State) and Blaine Boudreaux (Hutchinson County CC) will try to get their respective future college teams back over the .500 mark next season. Missouri Western went 4-7 in 2016, while Hutch posted a record of 5-6.
The Mill Valley football players have been quick to credit those who supported them throughout their state titles runs, and one of the people who was there for each game was cheerleader Lexi Moore. Moore join Freeman at UCM to continue her cheering career.
Moore and the Mill Valley cheerleaders were also on hand for many of the Lady Jaguar basketball team's game last season. The 2016-17 campaign was the only season for Johnson County Community College signee Elena Artis, who transferred to Mill Valley from Shawnee Mission West. Artis is looking forward to join a Cavaliers team that reached the NJCAA national title game last year, and has won at least 30 games in eight straight seasons.
"Super exciting," Artis said. "I've met some of the girls that are also signing there, so I'm really excited about getting to know them and bonding and trying to get that dub next season."
Artis was one of three seniors on the Lady Jags, and Maggie Bogart was in the same situation on the Mill Valley volleyball team. Bogart is one of the Jaguars making a long trek from home for college, as she will play for Lenoir-Rhyne in North Carolina. The Bears finished the 2016 season with a record of 12-18.
While Bogart wrapped up her high school playing days last fall, Mill Valley softball players Shelby Bonn and Kristen Kelly are making the most out of their final season with the Jaguars. Bonn and Kelly have helped the Jaguars to a six-game winning streak and a record of 10-8.
Kelly signed with Indiana State, which finished this season with a record of 24-29. Bonn will join a McPherson team that posted a record of 26-25.
Mill Valley senior Hanna Hurt — who has played for the KC Freedom club softball team — will continue her career at KCKCC. The Blue Devils went 25-21 this season.
Kasey Meeks rounded out the Mill Valley signees despite her sport not being offered at MVHS. Meeks — who has spent the past 12 years training at Pinnacle Gymnastics — signed with Illinois.
"I looked at other schools, and Illinois just felt like home," Meeks said.
Meeks will join an Illinois team that finished second at the Big Ten Championships this past season.
More like this story