Power outages reported in Shawnee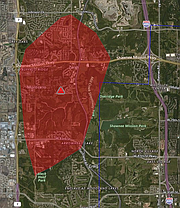 UPDATE: Westar Energy shows that all outages have been repaired as of 5 p.m. KCP&L continues to work on repairing outages in east Shawnee.
Westar Energy is reporting approximately 2,630 customers are without power after a thunderstorm brought gusty winds to the area.
The impacted area extends from Johnson Drive south to 91st Street and from Kansas Highway 7 east to about Barker Road.
Westar Energy has assigned a crew to make repairs and estimates that service will be restored to most customers by 3:30 p.m.
Kansas City Power and Light is working to repair approximately 200 outages. Most KCP&L outages are between Shawnee Mission Parkway south to 71st Street, from Quivira Road to Switzer Road.
Shawnee Police are investigating a reported non-injury accident at Shawnee Mission Parkway and Woodland Road, in the area impacted by the Westar outage. It was not immediately clear if the traffic signals at the intersection are functioning or without power.
The Shawnee Fire Department is investigating two reports of power lines down in the city.
No injuries have been reported.
An automated weather station near Johnson Drive and Kansas Highway 7 measured wind gusts to nearly 45 miles per hour around 2 p.m.
Check back with this report for updates.
---
Operation 100 News provides overnight news coverage for the Shawnee Dispatch. Follow on Twitter for real-time updates.
More like this story