Shawnee mom organizes upcoming
NF

walk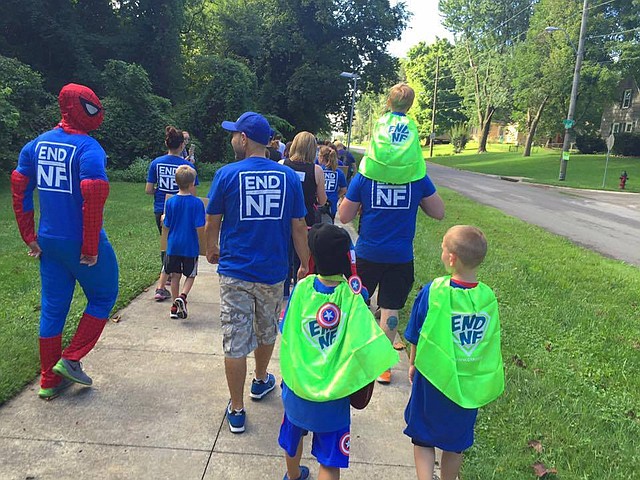 When Hannah Duby talks about her son, Eli, her face lights up.
After all, the cheerful 8-year-old always makes his parents and two older sisters laugh with his upbeat sense of humor.
His energy is boundless on soccer fields and basketball courts.
Oh, and he has a black belt in Tae kwon do.
But there's one thing many people who've met Eli may not realize: he has neurofibromatosis (NF).
In addition to being blind in his left eye, Eli has tumors on his spine and bilateral tumors on his acoustic nerves, which could lead to partial or complete hearing loss and balance issues later on, as well as numerous other complications, Duby said.
Despite his condition, she said her son is an amazingly strong kid who refuses to let anything slow him down.
Inspired by his resilience, Duby isn't letting her son's medical condition take the lead. She's ready to fight back.
The Shawnee mom is the Kansas City NF Walk director this year. She's currently busy organizing the event, which takes place from 9 a.m. to noon Sept. 23 at Penguin Park in Kansas City, Mo.
Funds raised from the walk will benefit the Children's Tumor Foundation, an organization which has created a number of innovative programs that are already speeding up the drug research and development process.
The organization is actively driving clinical trials and bringing together top scientists to work collaboratively to solve the mysteries of NF, Duby pointed out.
Because, unfortunately, there is no cure for NF and there are no effective treatments.
From 4 to 8 p.m. May 17, she will also be hosting a fundraiser for the walk, called "Eat Bread to Raise Dough," at Panera Bread, 10606 Shawnee Mission Parkway.
There will also be a bingo night from 7 to 8:30 p.m. June 7 at Hamburger Mary's, 3700 Broadway Road, Kansas City, Mo., which will support the NF walk.
Although the number of people NF directly affects is small in perspective, the ripple effect is huge.
NF affects one in every 3,000 people, which is more than cystic fibrosis, Duchenne muscular dystrophy and Huntington's disease combined.
But NF research is also shedding light on several forms of cancer, brain tumors, brain abnormalities, and learning disabilities.
It's a condition that can arise in any family, regardless of race or gender, said Duby.
Fifty percent of NF cases are genetic, while the other 50 percent is by chance.
When Eli was diagnosed with NF a few years ago, his parents underwent genetic testing to see if it ran in their families.
The results came back negative.
With Eli's good-natured disposition, it's easy for the family to keep a positive attitude, but sometimes the journey for Duby, and her husband, Lindsey, has been rough.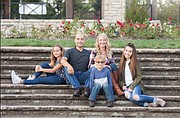 They've watched their son go through numerous eye surgeries and every year, they take him to St. Louis Children's Hospital to have his tumors monitored.
The Kansas City NF walk has been a huge help to their family since it was started a few years ago.
"It's a fun day for families to get together and bond," Duby said. "It's not everyday when you meet other people who share these similar experiences."
And this year, organizing the walk has been an honor, she added.
"It's hard work but I'm enjoying it," she said. "I feel like I'm doing something positive to help."
It's hard work that's getting noticed, too.
The mayor of Shawnee, Michelle Distler, recently signed at a proclamation declaring May 17 as World NF Awareness Day.
Duby and her children received the proclamation at city hall last week.
For those interested in participating in the "Eat Bread to Raise Dough" fundraiser at the Shawnee Panera, visit the Dispatch's website, shawneedispatch.com to view the fundraiser flyer with the online version of the story.
If you print the flyer or show it to an employee on your mobile device, the restaurant will donate a percentage of its sales that day to the KC NF walk benefiting Children's Tumor Foundation.
If you're interested in learning more about the organization, visit ctf.org.
More like this story