Walking across Sunflower State: Giant map of Kansas educates students at Hope Lutheran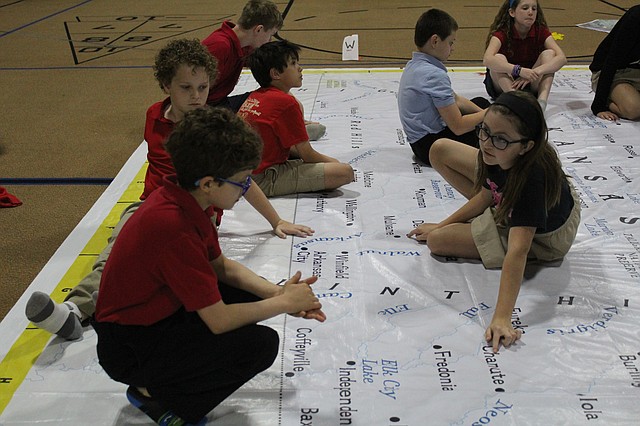 Addison Emily stood in the middle of Kansas and stared down at the cities, rivers and lakes below.
No, she's not a giant.
The 11-year-old from Shawnee was one of dozens of Hope Lutheran School students who explored the state of Kansas in a big way last week.
Map analysts from Kansas City, Mo.-based Trekk Design Group, LLC brought the The National Geographic Giant Traveling Map of Kansas to Hope Lutheran's gym on Friday morning.
The brightly colored, smooth vinyl surface of the map accurately illustrates Kansas's rivers, lakes, mountains, cities and capital.
The map, measuring 18 by 20 feet, also comes with a trunk full of materials, including interactive games, geography and math adventures, and hands- and feet-on interactive lessons that teach students about the physical characteristics of the state as well as its rich history.
For Addison and her classmates, it was an opportunity to learn about the state's geography beyond the confines of a textbook.
"It was really cool," she said. "I learned about cities I didn't even know were in Kansas."
For Hope Lutheran teachers, the map was a unique way to teach students navigation skills and showcase an appreciation for physical maps in the digital age.
"Physical maps are still necessary and they always will be relevant," said Daniel Gibson, a middle school teacher at Hope Lutheran. "It (the traveling map) is helping kids get a good sense of direction and learn about map symbols. I like that they can actively stand on it."
Map analyst Joann Smith, from Trekk Design Group, was thrilled about the enthusiastic reception the map received from Hope Lutheran students.
"We're hoping to make little geographers," she said, with a smile. "The map is a valuable resource and we would like to see it get used more."
Smith and her team are hoping to take the map to a couple more schools later this month.
The Kansas traveling map is not the only one in the country.
National Geographic gifted a map to all 50 states and the District of Columbia to support the use of maps as a way to invigorate learning.
It uses the expertise of National Geographic's cartographic division and recent research on spatial thinking development in children.