Maranatha girls soccer garners historic win over Bishop Ward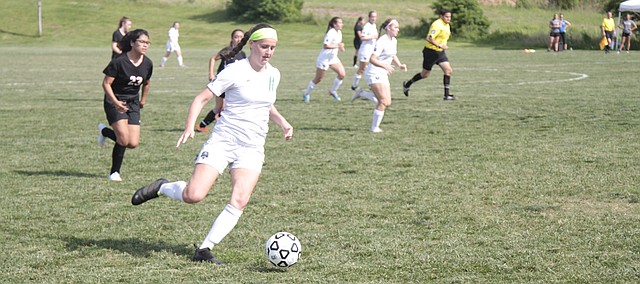 Having scored 93 goals in her career at Maranatha Christian Academy, senior Kayla Crowder has more than left her mark on the Eagles soccer program.
While the individual achievements have built up for the William Jewell signee over the past four years, the most meaningful accomplishment for Crowder came on Monday in the Eagles' 14-0 victory over Bishop Ward. The rout of Cyclones marked the first postseason victory in program history, and the Eagles' first 10-win season.
"It means a lot," Crowder said. "Going into my freshman year, we hadn't even won a postseason game, so being able to host and be a No. 3 seed my senior year and be second in the state (for Class 4-1A) is a really huge deal and just shows how far this program has gone."
Crowder found the back of the net five times to lead the Eagles — giving her 34 goals for the season. Junior Debra Zuniga netted a hat trick, and sophomore Evie Flint scored twice to join Crowder in having a multi-goal game. Junior Mallory Borgan, sophomore Abigail Wright, freshman Elle Bergerhofer and senior Lydia Yan each added a goal apiece to round out the scoring onslaught.
The unselfishness of Crowder led to the Eagles' first goal, as she set up Flint with an easy scoring opportunity in the fourth minute.
"I love Kayla. She works really hard, and she's not a ball-hog," Flint said. "She makes sure that we all have a chance to be in the light. She doesn't hog it all. She's just a really good player all around."
Crowder credited the development of underclassmen like Flint for the new heights that the Eagles have soared to this season. The Maranatha senior has enjoyed serving as the catalyst of an Eagles' offense that has averaged 3.5 goals per game.
"I think that not only passing to me, but this season there have been so many other people who can score," Crowder said. "In past years, defenders have just kind of put three on me and I haven't really been able to pass it to other people. But this year, people have improved so much and I can just lay it off and I can trust them that they're going to put it in the back of the net."
Maranatha coach Jon Orndorff said that the presence of Crowder has also made his job much easier.
"You have Kayla out there, and she pushes them all. It's like having a coach on the field," Orndorff, a 2008 Maranatha alumnus, said. "It's so nice to see where they started Day One as freshmen and sophomores and kids that haven't really played that much and where she (Crowder) has pushed them and everything, it's helped us so much."
With the win over Bishop Ward, the Eagles (10-6) advanced to the 4-1A regional final against tonight's winner of Bishop Miege (8-7-1) and Kansas City Christian (6-8-1). The Eagles earned a 2-0 victory over KC Christian on May 1, but did not play the defending state champion Stags in the regular season.
"We're a little nervous, but I truly think we can do it as long as we don't psych ourselves out," Flint said. "If we come into that game like we did this game, work really hard and prepare ourselves correctly for the game, I think we'll do just fine."
The Eagles will host the winner of Miege and KC Christian at 4:30 p.m. Thursday for the right to move on to the state quarterfinals on May 23.
More like this story