The much-anticipated Monticello Library is officially underway.
County and city officials gathered at the construction site last week to mark the groundbreaking for the new western Shawnee facility, which will be located at 22435 W. 66th St.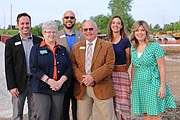 It is the first new library in the county since 1994.
"This groundbreaking for our new Monticello Library is gratifying evidence of Johnson County's willingness to invest in knowledge and literacy for generations to come," said Ed Eilert, chairman of the Board of County Commissioners. "Libraries improve the wonderful quality of life in our communities and ensure access for all residents, no matter their means or age, to information that can help them learn and experience success."
The two-story 33,548 square-foot building will feature floor-to ceiling glass along three sides, to allow natural light to be stylishly visible to those driving down Shawnee Mission Parkway.
The total project cost is $18.1 million. It will also have spacious meeting rooms, a robust children's area, a rooftop terrace and a digital makerspace.
Shawnee City Councilman Jeff Vaught was one of the many people invested in bringing a new library to the western part of the city.
He told the Dispatch he attended numerous meetings about the new library and lobbied heavily for the idea to turn into a reality.
Many people at the meetings told library officials that access to computers, meeting space and a dynamic children's area were top priorities.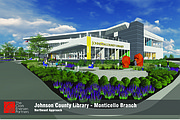 Those comments didn't surprise Vaught who said more and more young families continue to be drawn to western Shawnee.
"Amenities like a meeting room and children's area are badly needed in this area," he said. "They really did take public input into consideration and now we have a beautiful building which is going to be great for the area."
Councilman Brandon Kenig agreed.
"This has been many years in the making," he said. "I'm excited we're finally at the groundbreaking stage.
"The demand is there and I know many young families will get use out of this facility."
He likes the new library's modern design, which heavily features natural light, and thinks the attractive building will draw people and hopefully, new businesses to the area.
"There's a lot of development and growth in western Shawnee and this library has potential to be an anchor for more economic development," he said.