Popular barbershop to relocate to former She's a Pistol spot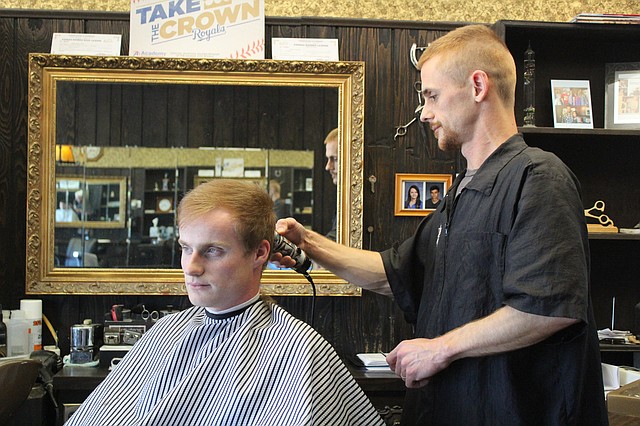 One of the oldest businesses in Shawnee is moving right down the street from its original spot.
Gentlemen's West has sat in a shopping strip on the southeast corner of Nieman Road and Shawnee Mission Parkway since 1952.
But now, it's moving to the southeast corner of Quivira Road and Shawnee Mission Parkway.
Owner Andy Enyeart hopes to open the new location, 6489 Quivira Road, this weekend.
The new space will be bigger, sleeker, and offer better parking and easier access for his customers.
And while it will have a more modern feel, the old-school barbershop atmosphere will remain.
The shop's large gold-framed mirrors will be placed on the walls, the retro barber seats will remain and Enyeart plans to keep the shop's black rotary phone, which he still uses.
He even plans to bring the shop's dark wooden cabinets.
Staying in Shawnee, was also key.
"It was important to stay in Shawnee because so many of our Shawnee customers stand by us," he said. "I didn't want to go too far."
After all, the shop still has several long-time customers, some who have even been coming since the 1950s.
Over the years, customers of Gentlemen's West have become Enyeart's friends.
It was one of the reasons the Raymore resident purchased the barbershop from its original owner, Bob Russell, around eight years ago.
Enyeart had been working at the barbershop for many years beforehand.
The minute he started working at Gentleman's West, he was hooked.
"Stepping in here is like stepping back in time," said Enyeart. "It's a traditional barbershop and you don't see very many of those around anymore."
Many of his customers feel the same way.
One of them, 21-year-old Shawnee resident Andrew Alvey, said he will definitely follow Gentlemen's West to its new location.
After all, he said, the business feels like family.
He's been getting his hair cut at the shop since he was a young child and he can't imagine going anywhere else.
"Andy has always been good to us," he said. "I highly recommend this place to anyone. It's a great place for men to get their haircut."
To contact Gentlemen's West, call 913-631-9806.