Mill Valley softball punches ticket to state with wins over St. James, Aquinas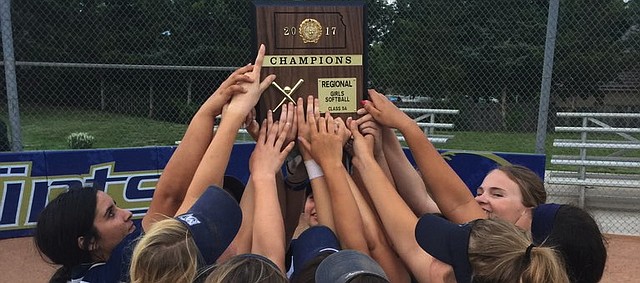 After winning seven of its final eight games to end the regular season, the Mill Valley softball team kept on rolling in the Class 5A regional tournament with wins over St. James Academy and St. Thomas Aquinas on Tuesday to clinch a trip to state.
The Jaguars blasted past the Thunder in the regional semifinals, as Jess Garcia and Peyton Moeder homered to lead Mill Valley to an 8-5 victory. Garcia hit a solo shot to put the Jaguars on the board in the first, and Moeder added one of her own in the third.
Kristen Kelly went 3-for-4 with an RBI and two runs scored to pace Mill Valley. Garcia, Moeder, Lauren Florez, Haley Puccio and Lilly Blecha added two hits apiece in the Jaguars' balanced offensive attack. Garcia and Florez led the Jaguars with two RBIs apiece.
Page Mindedahl went 3-for-4 with an RBI and two runs scored to lead the Thunder. Addie Laing had a hit and two RBIs, as St. James ended the season with a record of 5-16.
The Jaguars' momentum carried over into the regional final against the Saints, as they jumped out to an early lead en route to a 5-3 victory. Mill Valley scored three runs in the first, and pushed one across the plate in the fourth and fifth to grab a 5-0 lead. The Saints rallied for three runs in the fifth, but that was all they could muster against Florez, who went the distance in the circle.
Moeder and Puccio collected two hits apiece to pace the Jaguars, and Grace Lovett led Mill Valley with two RBIs.
The win for the Jaguars over the top-seeded Saints pushed their record to 13-9 entering the 5A state tournament, which will take place May 25-26 at the Two Rivers Youth Complex in Wichita.