Police investigate shots fired overnight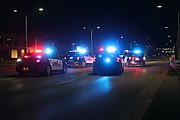 Shawnee Police were called to investigate several reports of possible gunshots heard along Shawnee Mission Parkway early Monday.
"There was more than one caller; 6100 Nieman and 10300 Shawnee Mission Parkway," said Major Dan Tennis.
Officers closed the eastbound lanes of Shawnee Mission Parkway just east of Goddard Street shortly after 1 a.m. as they searched for any evidence in the road. All lanes of Shawnee Mission Parkway were back open just after 2 a.m.
"We are working this morning to investigate the report further," Tennis said.
Police at the scene could be seen carrying small evidence collection baggies. Major Tennis says officers did not recover any casings in the area.
No injuries were reported and no other information was immediately available regarding the incident.