SMNW

swimmer Brull goes out as state champion in 100 butterfly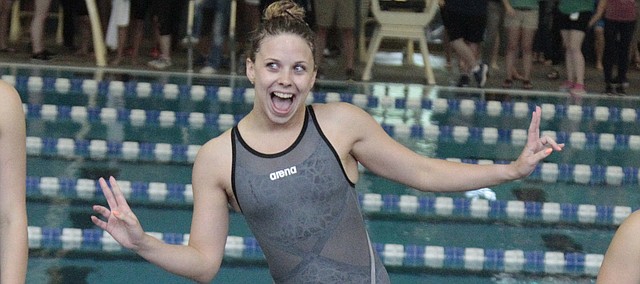 Topeka — The waves of emotion were more tumultuous than ever for Shawnee Mission Northwest senior Hailey Brull in the finals of the Class 6A swim and dive meet on Saturday at the Capitol Federal Natatorium, but she wouldn't have had it any other way.
Each of the four events that Brull competed in brought out a different emotion in the Omaha signee. The SM Northwest senior wanted to savor each moment of her final high school meet before she competed in her first event, as she posed for photos with 200-yard medley teammates Piper Schuerman, Bailey Cavin and Catie Wood.
"We're all really close. Everybody is so funny. We have a team mascot named Dave, and we all pretty much worship him," Brull said of Cougars' dolphin figurine. "I think he's definitely brought us closer, which is weird to say, but it's true."
After the Cougars placed 11th in the 200-yard medley, Brull geared up for her two individual events — the 200-yard IM and the 100-yard butterfly. The IM was the event Brull was most concerned about entering the meet, as she had her recent struggles with the freestyle leg to round out the race. The uneasiness of the final leg showed, as Brull was disqualified for making an illegal turn in the transition from the breaststroke to the freestyle.
"I did a one-hand turn on my breast to free, but what can you do about it?" Brull pondered.
Brull's ability to shake off the frustrating finish paid its dividends, though. The SM Northwest senior was determined to defend her state title in the 100-yard butterfly, and she did just that by clocking in at 56.39 to edge SM East junior Emma Linscott by 0.55 seconds.
"I love coming back on my last 50 and just sprinting in and going crazy and not thinking about anything except for how fast my arms move," Brull said.
While Brull was all smiles at the top of the podium, she still had one more event left to wrap up her high school swimming career. Brull briefly put a major scare in the rest of the Cougars' 200-yard freestyle team by showing up at the diving blocks just seconds before the start of the race, but she wasn't about to miss it.
After the Cougars cleared the pool following their 10th-place finish, the final wave of emotion hit the SM Northwest senior. Brull was brought to tears while gathering for one last hug with fellow senior Haley Nunnink, Schuerman and Cavin, but showed a smile through it all.
"It's crazy. It went so fast," Brull said. "I'm really emotional about it because I love high school swimming and all of the parents and supporters that come out and make my day and make state so much better. I'm just definitely going to miss it."
Cavin and Schuerman both competed in individual events for the Cougars as well in Friday's prelims. Cavin clocked in at 26.11 in the 50-yard freestyle to take 26th place, and Schuerman finished 29th in the 100-yard backstroke with a time of 1:08.15.
Cavin also joined Wood, Julianna Kanter and Skylar Brogan on the Cougars' 400-yard freestyle relay, which placed 20th in prelims with a time of 4:02.33.
The Cougars also had two divers in the field of the one-meter diving competition in sophomore Celeste Gordon and senior Klara Stevermer. Gordon made it to the finals in her first season of diving, and posted a score of 319.00 to finish 14th. Stevermer placed 29th with a score of 115.75.
The Cougars placed 16th in the team standings with 49 points.
SMN's Merriman named first-team all state after garnering two silvers
Finishing just behind SM Northwest in a tie for 17th with 34 points was SM North, which was led by junior Joely Merriman.
The SM North standout felt good about her second-place finishes in the 50-and 100-yard freestyles, but there was a sense of shock for Merriman that she wasn't on the top of the podium after at least one of the two events.
"I was pretty surprised," Merriman, who was named as a first-team all-state selection, said. "That's probably the biggest feeling I had during the race."
Merriman took second to Derby junior Megan Keil in both events. Keil returned to high school swimming after forgoing the 2016 season in attempts of making the U.S. Trials.
First up for Merriman was the 50 free. The SM North junior didn't have much of a game plan for the 50 free other than to just give it her all, and she finished with a time of 23.67. Keil clocked in with a winning time of 22.91.
"Honestly, I didn't think about it," Merriman said. "I just went for it."
The event that had most of Merriman's focus, though, was the 100 freestyle. As the defending state champion in the event, Merriman swam 1.02 seconds faster than her winning time from last year, but she came up just short of edging Keil.
While the time of 51.30 for Merriman wasn't quite good enough to beat Keil, who clocked in at 51.00, the SM North junior broke her own school record in the event. Merriman holds three individual school records — the 50-and 100-yard freestyles, and the 100-yard backstroke.
"I think it shows improvement throughout the school year and that I can prove to myself that I can do it," Merriman said.
Merriman was also on North's school-record 200-yard freestyle relay team with senior Tessa Poterbin, sophomore Brooke Howard and alumna Caitlyn Howard last season. Eliza Roubinek joined Poterbin, Merriman and Brooke Howard on the Indians' 200-yard freestyle relay in Friday's prelims, and helped SM North to 17th place with a time of 1:47.69.
Roubinek and Poterbin were members of the Indians' other two state-qualifying relays as well. The 200-yard medley team of Poterbin, Noel Rivera, Roubinek and Greta Berg placed 25th with a time of the 2:14.83. Poterbin, Roubinek, Merriman and Howard made up the Indians' 400-yard freestyle to round out the meet, and posted a time of 4:00.87. Howard added a 30th place finish in the 100-yard backstroke.
MV 200 free relay finishes as state runner-up
After finishing second to St. Thomas Aquinas by nearly two-and-a-half seconds in the 200-yard freestyle relay prelims on Friday, Mill Valley sophomore Celia Kistner and the fearless freshmen trio of Kayla Teasley, Cadee Morris and Allison Godfrey were not about to concede a state title to the Saints.
The Jaguars and Saints went down to the wire in Saturday's finals, with Aquinas edging Mill Valley by 0.43 seconds. Teasley, Morris and Kistner were in a frenzy during the final leg before instantly becoming still when they joined Godfrey in looking up at the scoreboard to see the official results. The Jaguars were numb for a brief moment when they saw their names listed under Aquinas, but when Godfrey turned around to look up at Teasley, Morris and Kistner, all they could do was smile. They had trimmed nearly two seconds off of their prelims time to clock in at 1:43.29, which was more than they could have asked out of themselves.
"It was awesome," Morris said. "We've never done this well at state, and it was awesome to do it with all of my friends that are freshmen. It feels good to be so close to them (the Saints) because they're so good."
Despite only being a sophomore, Kistner garnered a great deal of experience at last year's state meet after swimming the 200-and 500-yard freestyles and the 200-and 400-yard freestyle relays. While Morris, Godfrey and Teasley have been used to the big stage thanks to the environments they've come across in club swimming, the Mill Valley sophomore said that competing at state last year made it much easier for her to mentally prepare for a scenario like the 200-yard freestyle relay.
"I think it helped a lot being able to know what to expect and how much different it is than normal meets," Morris said. "You usually always swim better because of all of the competition you have from everywhere."
The Jaguars' 400-yard freestyle relay also made it into the final heat on Saturday. Godfrey, Teasley and juniors Jaz Schwegman and Jordan Robinson posted an eighth-place finish with a time of 3:57.15. Mill Valley's 200-yard medley team of Morris, Kistner and seniors Elaina Bartlow and Vicki Robinson narrowly missed out on qualifying for the consolation finals after finishing in 17th place with a time of 2:04.96.
Godfrey was the Jaguars' top performer in the individual events, as she made her way to the podium in the 100-yard freestyle with a time of seventh-place time of 56.67. The Mill Valley freshman also placed 11th in the 50-yard freestyle after clocking in at 26.03.
Teasley and Schwegman both qualified for the consolation finals in two events. Teasley placed 11th in the 100-yard breaststroke (1:13.22) and 12th in 100-yard freestyle (57.15), while Schwegman finished 11th in the 100-yard butterfly (1:05.31) and 16th in the 500-yard freestyle (5:59.60).
Morris also competed in two individual events, as she took 18th in the 100-yard butterfly (1:06.82) and 20th in the 100-yard backstroke (1:09.21).
The Jaguars had two qualifiers in the 200-yard freestyle between Jordan Robinson and Kistner. Robinson clocked in at 2:10.94 to place 16th, and Kistner finished with a time of 2:20.21 to finish 24th. Mandy Teasley rounded out the Jaguars' state qualifiers with a 20th-place finish in the 100-yard breaststroke after clocking in at 1:18.59.
The young Mill Valley squad cracked the top 10 in the Class 5-1A team standings with 93 points, which was good for ninth place.
Crain, 200-medley relay pace St. James
Mill Valley was not the only Shawnee-area team with a relay of all underclassmen to put together a podium-worthy performance. St. James freshmen Aubrey Crain and Ashley Brull and sophomores Andrea Curnes and Audrey Jones placed eighth in the 200-yard medley relay with a time of 2:02.01 to highlight the meet for the Thunder.
"It was amazing," Brull, the younger sister of Hailey Brull, said. "I was so happy to finish and be one of the top eight. That was amazing."
The St. James freshman said that competing at the state meet for the first time was slightly overwhelming, but when looking back at the day as a whole, it was a special experience between the top-eight finish in the medley relay and watching her sister become a two-time champion.
"I want the best for my sister, and it's just amazing to see her succeed," Ashley Brull said.
After watching her cousin, Brooke Brull, and Hailey shine at SM Northwest, Ashley could have been the next in the family line to be a swimming standout for the Cougars, but she elected to go to St. James to make her own mark and make a new group of friends.
"I just wanted to meet new people and not be a follower," the Thunder freshman said.
Ashley Brull also competed in the 400-yard freestyle with Jones and seniors Sierra Alley and Courtney Setter. The Thunder clocked in at 4:08.45 to take 18th place.
Setter, Jones, Curnes and Crain just missed out on making the finals in the 200-yard freestyle relay, but they returned to the pool Saturday to post the top time in the consolation finals. The Thunder posted a time of 1:47.83 en route to a ninth-place finish.
Crain put together top-10 performances in the 100-yard breaststroke and the 200-yard IM to lead the Thunder individual-event qualifiers. The St. James freshman placed eighth in the 100-yard breaststroke (1:12.23) and 10th in the 200-yard IM (2:22.89).
Curnes added a 17th-place finish in the 100-yard breaststroke (1:16.76), and Jones took 23rd in the 50-yard freestyle (27.56) to round out the meet for the Thunder.
The Thunder placed 15th as a team with 58 points.
Backstrokers share special moment for Wildcats
De Soto senior Gabrielle Mallozzi and junior Kenzie Dalrymple put a fitting end to the state meet for the Wildcats in the consolation finals of the 100-yard backstroke.
Lined up side-by-side in Lanes One and Two, Dalrymple swam to a personal-best time of 1:06.53 to place 15th and Mallozzi set the third school record of the meet for the Wildcats after clocking in at 1:04.60 — which was good for 10th place.
"It was definitely amazing swimming against one of your best friends," Dalrymple said shortly after a long post-race hug with Mallozzi. "She pushed me while I was swimming to try to keep up with her."
Dalrymple and Mallozzi chipped in on De Soto's other two school-record breaking swims as well. Kenzie Dalrymple, Alyssa Wernimont, Haley Dalrymple and Mallozzi finished with a time of 2:03.89 to place 14th in the 200-medley relay to begin the day. The Dalrymple sisters, Kayla Deghand and Mallozzi then returned to the pool to take 12th in the 200-yard freestyle relay with a time of 1:49.13.
"It's definitely been so much fun," Kenzie Dalrymple said. "It's one of the best seasons that I've ever had — especially looking at all of the accomplishments and all of the dropped times — and also just doing it for the seniors."
Mallozzi also made it to the consolation finals in the 50-yard freestyle, and finished 12th with a time of 26.13.
The Wildcats scored 30 points to finish in 23rd place.
More like this story