Thinking outside the 'cube'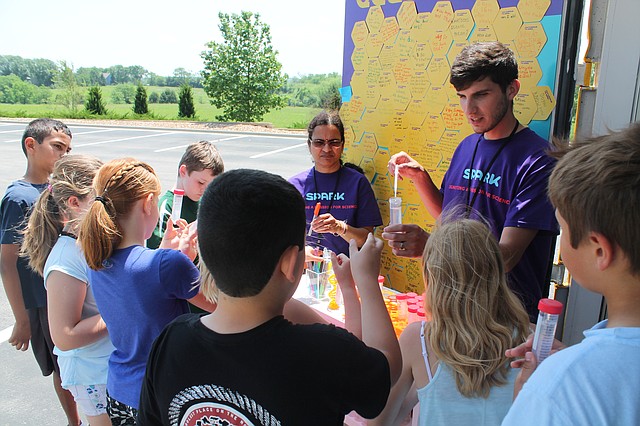 Before school let out last week, a group of elementary school students explored science in a unique way: by hanging out in a retrofitted shipping container.
The 22x10-foot container, named the Curiosity Cube, is a mobile science lab with state-of-the-art technology and in-depth lessons.
The cube is the creation of MilliporeSigma, a global life science company with a campus in Lenexa.
Earlier this month, the lab made a stop at Belmont Elementary in Shawnee.
A handful of employees from the MilliporeSigma Lenexa campus acted as volunteers, helping out with hands-on experiments at each scientific station throughout the cube.
Stations included DNA and technology, such as a motion-sensory television, a microscope and a 3D printer.
"Our goal is to spark curiosity in the future generation of scientists," said Kaely Zeiser, a Curiosity Cube coordinator, who has traveled across the country with the unconventional science lab.
On a sunny late morning, dozens of fourth and fifth grade students from Belmont explored the cube.
They spent 10 to 15 minutes at each station.
At the DNA station, the kids extracted their own DNA by swishing Gatorade and mixing it with a solution made from household items, such as soap, water and rubbing alcohol.
At a motion-sensored screen, students explored a 3-D image of a skull.
At the 3-D printer, they made colorful, plastic "cells."
"It's different and I love it," said fourth-grade teacher Wendy Weeks. "They're leading their own learning and that's so important. Education shouldn't be about hand-feeding them everything because they need to learn how to problem-solve on their own."
Her students agreed it was a nice break to step out of the classroom and into a cube of scientific wonder.
Plus, it opened their eyes to topics they haven't learned about in school yet.
"My favorite station was DNA because it was amazing how we could see it with one quick little experiment," said Abigail Livingston, 10. "It made me much more interested in being a doctor or a scientist."
The Belmont students were among thousands of kids across the country who have participated in MilliporeSigma's Curiosity Cube since it was constructed a few months ago.
So far, as it made its way to Kansas from the west coast, it has stopped at schools in California, Washington, Wyoming and Texas.
This summer, it will visit camps and festivals from Missouri to Massachusetts.
MilliporeSigma employees from Lenexa who volunteered at the Belmont event said they were impressed with the cube's concept.
After all, hands-on activities are very helpful in getting kids interested in science, they pointed out.
They hope the cube will help more kids realize how cool science can be.
"With science, you can really change the world," said Jordan Kern, a microbiologist "That's what makes it exciting."