Painting the town pink: new fashion boutique opens in Shawnee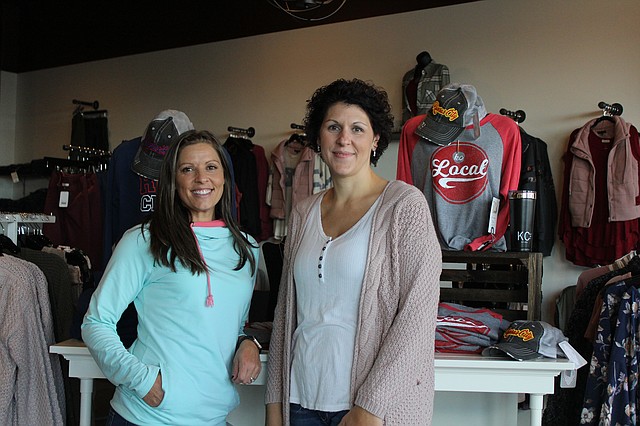 From contemporary casual to a little more glam, a new boutique in Shawnee Crossings offers a variety of styles.
Pink Charming Boutique, 22736 Midland Drive, opened its doors earlier this month. The store features women's clothing, accessories, home decor, custom monogramming, and collegiate wear, among other fashionable items.
The store will have a grand opening celebration Saturday.
From 10 a.m. to 4 p.m., there will be a different doorbuster sale every hour and from 6 to 9 p.m., there will be raffle prizes, refreshments and swag bags for the first 100 customers.
Pink Charming will also feature $10 custom-made t-shirts with empowering messages for sale.
Although the boutique is new to Shawnee, it's not a stranger to the Kansas City area.
Co-owners Erin Thom and Amy Sharp opened the first Pink Charming location in Basehor last year. The tiny shop became an instant hit out there.
Needing more space, they chose to expand to western Shawnee.
"I feel like Shawnee is a perfect fit for us," Thom said. "The location is awesome and we love the small town feel you still have here, like Basehor."
Although Pink Charming has only been open in Shawnee for less than a month, word is spreading fast. It already has regular customers from a diverse age range, from high school students to senior citizens.
Best-selling items include Dear John Jeans and Ampersand Avenue double-hooded sweatshirts. It also sells local artisan products, such as bath soap and jewelry.
"We want women to feel comfortable but stylish," Sharp said. "When a customer comes in the store and finds something they love, which they haven't seen anywhere else, that is the most rewarding feeling."
Besides its grand opening, the shop has a few other important events coming up.
Soon, it will have a ribbon cutting ceremony with the Shawnee Chamber of Commerce.
Thom and Sharp are also preparing for the store's Pink Wednesday sale, which will offer Black Friday deals the day before Thanksgiving.
Pink Charming will also participate in Small Business Saturday.
Throughout the year, the boutique will become more involved in the community as well. Like its Basehor counterpart, the Shawnee store will host events and fundraisers. Last year, Thom and Sharp used the store to raise money for the Basehor-Linwood School District and local food pantries.
They hope to do the same for the western Shawnee area.