Westbrooke Green developers discuss new details of project, address concerns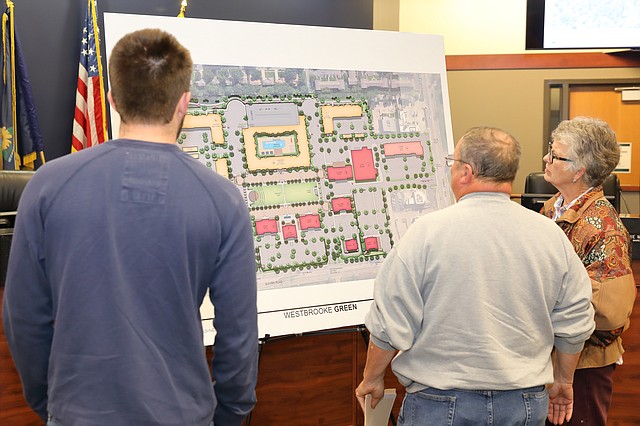 In an attempt to broaden communication and offer transparency, the developers of the Westbrooke Green mixed use project held a public meeting on Wednesday evening.
The $113 million project, set to replace the nearly vacant Westbrooke Village Shopping Center on the northeast corner of 75th Street and Quivira Road, will feature retail, dining and residential components.
It is a joint venture between Mission Peak Capital and Extell Development Company. It also includes attorney John Petersen, Polsinelli; engineer Brad Sonner, Olsson Associates and architects Clint Evens and Tim Homburg, NSPJ Architects.
At the meeting held at City Hall last week, the developers provided more details about the project, answered questions and addressed concerns.
"We're not up here to hide anything from you," P.J. Ventola, a managing director for Mission Peak Capital, told the audience. "In fact, it's the opposite. We are very, very proud of our design. We have put a lot of time and money and energy to create what we think is an unparalleled project both Kansas City wide and in Shawnee."
Plans for the Westbrooke Green development include four-story and five-story apartment buildings, which will house 530 luxury units.
The project is designed to feature restaurants facing a large community courtyard.
The lush two-acre courtyard will feature a small amphitheater and it will be anchored by a clock tower.
The project embraces "forward-thinking architecture" with a warm contemporary aesthetic because developers wanted a one-of-a-kind design.
"We didn't want something that has been done one-hundred times," said Homburg, an architect for the project. "This is something we think is truly unique because it's a special project to Shawnee, so we want an architecture that is something people will remember. We wanted materials that will age gracefully, such as stone, stucco and other materials that do not deteriorate over time."
He pointed out the attractive mixed-use project will transition smoothly to nearby single-family neighborhoods.
A parking structure for the residential component is designed to minimize car lights from glaring into neighboring homes.
Most of the current vegetation surrounding the property will remain, plus developers have a prominent landscaping plan in place.
Despite the promise of more trees as a buffer for surrounding neighborhoods, one resident was still unimpressed, however.
Susan Geary, who lives adjacent to the north part of the property, told developers she was worried about her backyard being viewed by strangers.
"I've wanted to see this (area) developed for a very long time," she said. "I'm concerned about my loss of privacy. I have a private backyard and put a lot of money into a total pool renovation. Now, I have a five-story apartment building behind me where people can see into my backyard with my family swimming. I'm not excited about that."
Petersen, an attorney for the project, assured Geary in terms of distance and landscaping, people at Westbrooke Green would not be able to look into her pool, but it was an issue the team would be happy to address further.
Ventola added human nature should also play a role in her favor.
"I think one thing we need to acknowledge is that these are people like us who will be living in those (Westbrooke) units," he said. "People like their own privacy. Go drive through a multi-family development right now. The vast majority, if not every unit, has their blinds closed. So, it's not like there's a bunch of people with binoculars sitting out on the deck trying to see what's going on. They want to have a private life just as much as you do."
Geary also told developers she was concerned about how loud the amphitheater would be.
Petersen told her the amphitheater will meet city codes for decibel limits, plus it will only feature low-key events such as movie nights, community theater or a guitarist entertaining outdoor diners, for example.
Another resident told developers that based on information she obtained from the Shawnee Police Department, the 75th Street corridor, from Switzer to Quivira, has the highest percentage of crime in the city.
"How are you going to get high-end renters in the highest crime area in Shawnee?" she asked.
Petersen replied that the developers chose that particular location because it is at an intersection with two major thoroughfares, it has good access to the interstate system and the city of Shawnee is attractive to millennials and empty-nesters who are seeking to live in high-end apartments.
Plus, he added, a project such as this one could help turn that area around.
"If there is a certain level of criminal activity in a corridor, the question is 'what do we do?'" he said. "Do we just not invest in any property in the corridor? We have a problem so let's just invest to the level of the problem we have? Or do we take the opportunity with basic great demographics and a great city and somebody who is willing to put $113 million in the ground to say, 'I will make it work and reverse the trend.' That is what this is all about."
At the meeting, Petersen also confirmed developers are seeking $25 million in city investment, which is 23 percent of the project's total cost.
Although the meeting was appreciated by many residents, some of them admitted the information provided didn't entirely alleviate their fears.
Geary, for instance, told the Dispatch she is still apprehensive.
"I am all for revitalizing that area, but I didn't realize it would impact my personal privacy," she said. "Be careful what you wish for."
At its meeting this evening, the Shawnee Planning Commission will consider rezoning and a site plan for the Westbrooke Green project.
The meeting will be held at 7:30 p.m. at Shawnee City Hall, 11110 Johnson Drive.