Lake Quivira
CC

assistant golf pro and fellow

KC

native win Topgolf Tour World Championship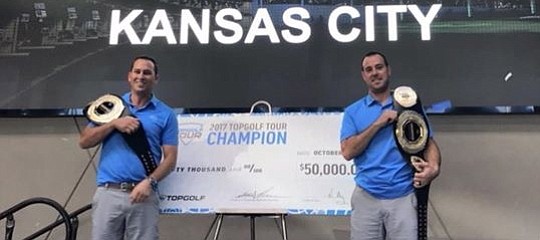 Lake Quivira Country Club assistant golf pro Chris Mabry has faced some pressure-packed shots in tournaments over the years, but none quite like a few of the ones he had two weeks ago in Las Vegas.
Mabry partnered up with fellow Kansas City native Kevin Ward in the Topgolf Tour World Championship from Oct. 13-15, and the local duo brought home the title after outlasting the other 18 team qualifiers.
"It was probably one of the cooler experiences of my life just from start to finish. They put on a pretty good show for us," Mabry said. "They know how to make you feel right at home. It was a lot of fun."
Mabry and Ward qualified for the world championship tournament by winning the regional qualifier that was held on July 29 in Overland Park. The winners of its each regional tournament joined Mabry and Ward in Las Vegas for the Topgolf Tour World Championship. Mabry said that Topgolf suits him and Ward well because they don't have to putt or worry as much about their short game.
"We're both really good ball strikers, so it worked out well in Topgolf that obviously you don't have to putt. It's kind of crazy," Mabry said. "Even our wedge game is not our best, but it came down to those last two games where it is all about a 95-yard target and that's a wedge. Luckily, it worked out for us. It was just a lot of fun for both of us."
While 18 of the 19 teams at the world championship tournament were from the United States, Mabry and Ward went up against the United Kingdom tandem of Matt Cousens and Ben Barnes in the finals. Cousens and Barnes defeated Mabry and Ward in the first round of the best-of-three final, but the Kansas City duo bounced back to take the second and third rounds to win it.
The finals featured a unique format called Top Pressure Elite, which required each team to hit the ball into each quadrant in the green target. Mabry and Ward were able to build a lead late in the third round, but they still had to be on the top of their games in order to clinch the championship.
"All we had to do with six balls left was get the six and the seven. But if we wouldn't have hit it into another target, we would lose points," Mabry said. "The six and the seven is right by the nine and the eight. We would have lost 180 points and 160 if Kevin would have hit it into a different target.
"He hit his first ball right in the six and the second ball right into the seven and we won. We only needed two balls. It was crazy. We had four balls left, so we just chipped them sideways. It was a good feeling to not have to worry about hitting it into a target."
Along with winning the tournament and splitting a $50,000 check with Ward, Mabry enjoyed making friends players like Cousens and Barnes and reuniting with other golfers that he hadn't seen in a while.
"The guys from the UK were great. We actually knew the guys from Team Phoenix," Mabry said. "One of them is the club engineer for Ping. They both work at Ping and they played Tour golf. Our semifinals match was against Peter Campbell (and Jamie Puterbaugh). They were good players. His partner played at San Diego State."
Campbell — who played collegiately at UCLA before turning pro in 2008 — and Puterbaugh were playing at their home Topgolf as the regional qualifiers from Las Vegas. The Las Vegas Topgolf is the largest location in the world.
"Las Vegas Topgolf is pretty much on steroids. It's got four levels," Mabry said. "It's the only one with four levels. It's crazy. It's got two pools."
The venue had Mabry in awe, but the experience was close to being a bitter one with a near first-round exit. With two balls remaining, Mabry needed 18 points to send him and Ward to the next round. The Lake Quivira assistant golf pro hit what he thought was the match-clinching shot into the trench, but due to a bad bounce he was forced into a win-or-go-home situation.
"I hit a perfect 5-iron at the trench, but it actually hit the trench and bounced out. So we got zero points for that," Mabry said. "I had to hit the last ball in the trench and it had to stay in there. It stayed in there, so we won that first match by only three points. That kind of almost derailed everything when it bounced out. It was right in the middle of the trench, and it bounced straight out."
Mabry and Ward's semifinal match against Campbell and Puterbaugh also came down to the final ball. Mabry chipped it into the 95-yard target to get the five points him and Ward needed to advance to the finals.
"I've played a lot of golf and every shot I was obviously a little nervous," Mabry said. "You can't really miss. Those targets are pretty big, but if you miss it, you're pretty much done. So it was fun."
While each shot was a stressful for Mabry, playing with Ward helped to ease his nerves. Mabry and Ward have been friends since their youth despite being rivals in high school and college. Mabry attended Bishop Miege and the University of Missouri, while Ward went to Rockhurst High and the University of Kansas.
"He hit it pretty well. I don't think he missed a target. He might have missed a couple, but it takes a lot of the pressure off," Mabry said of Ward. "I played a lot of golf, and I haven't been that nervous hitting a golf shot in a long time — probably ever just because you can't afford to miss a target. Just having him right there, obviously we're buddies. It was fun. He takes the pressure off of you just because he's a good player."
The Topgolf world championship hasn't been the only tournament win for Mabry this fall. Mabry also earned a first-place finish at the PGA OMEGA Section Championship on Sept. 25 at Lawrence Country Club. He credited his recent success to being able to practice more over the last two months after being busy over the summer with his assistant golf pro duties.
"Our busy time of the season is obviously the summer out here. We do a lot of events. I teach a lot, which is good," Mabry said. "The last month-and-a-half, I've been trying to settle my time to practice just a little bit more and just pin-point it. Obviously I've been playing a little bit better. That Omega Section Championship helped me gain a little bit of confidence heading into that Topgolf just from my ball-striking perspective."
Prior to becoming an assistant golf pro at Lake Quivira in 2010, Mabry played professionally for three years. Mabry enjoyed his time playing professionally, and felt fortunate to transition into his current gig.
"The membership is great. All of the staffing out here — it's just a fun place to come to work every day," said Mabry of Lake Quivira Country Club. "I'm from Kansas City and I don't ever want to leave Kansas City, and my wife doesn't want to leave Kansas City. It's our home."
Mabry grew up idolizing Kansas City native and golf legend Tom Watson. Between playing in every single Watson Challenge and welcoming the eight-time major tournament champion to Lake Quivira Country Club in September for a fundraiser for The First Tee of Greater Kansas City, Mabry was been able to play several rounds and become good friends with Watson.
"I've played with him probably 20 times, probably more than that. Just to have The First Tee out here, that was pretty special for Lake Quivira for them to pick us to put us on the map, too, and to have him out here it was pretty special," Mabry said. "He's obviously the most famous golfer to come out of Kansas City. To come out here and put on that show, that was special."
Although Mabry and Ward represented Kansas City golf in a different realm compared to what Watson has, it meant a lot to them to win the Topgolf world championship for their hometown.
"Just to bring it home back to Kansas City, it was pretty cool for Kevin and I to be able to do that," Mabry said. "I thank Topgolf for everything they do. From start to finish, it was a lot of fun."
More like this story