Face to Face: Ryan Gentry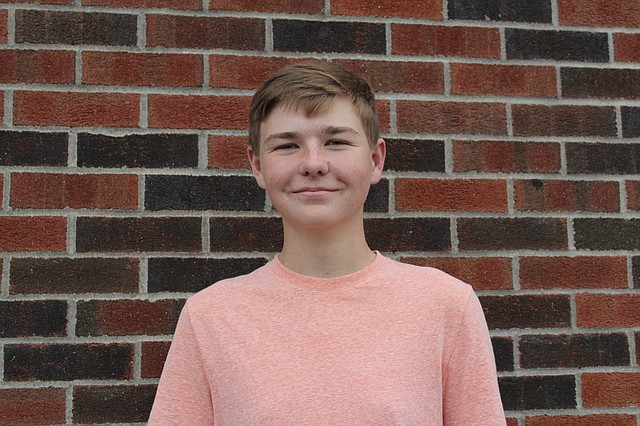 Name: Ryan Gentry
Born: Merriam
Family: Mom, dad, older sister
Dream job: Lawyer
Digging deeper: Only 4 percent of Boy Scouts achieve Eagle Scout status. And this school year, Ryan Gentry hopes to earn his way into that prestigious statistic.
This month, he is working diligently on his Eagle Scout project. Using materials donated by the City of Shawnee, the 17-year-old, along with his team, are building three vendor huts for the city's parks and recreation department.
City officials will rent the 13-foot huts to outside vendors for various events, such as Christmas Around Town or Historical Hauntings.
For Gentry, who belongs to Troop 358 based out of Hope Lutheran Church, the experience has been an eye-opening one.
"I've learned being a leader isn't easy," he said. "No matter how much you may want to, you can't do it all on your own. It's about delegating responsibilities and learning how to go with the flow. It's about realizing mistakes happen, but learning how to fix those mistakes and prevent them from happening again in the future."
Gentry joined Boy Scouts when he was in first grade.
His favorite part of Boy Scouts is camping, particularly his troop's annual float trip, in which the boys kayak on the Niangua River.
"You go so fast and hit the currents and the water is freezing no matter what time of year you go," he said. "It's fun to pitch a tent and relax around the fire with your friends. It really brings you together as a troop."
Scouting isn't just about camping, however. There are numerous life skills offered to the boys through patches and badges, such as personal finance, cooking and first aid.
Gentry, a Shawnee Mission Northwest High School junior, enjoys learning the new skills, plus he's made a ton of close friends.
His ultimate goal, however, is to earn the Eagle Scout rank.
It's been his dream since he was little because his late grandfather encouraged him to pursue the designation.
"Sure, it looks good on a college or job application, but it's more of a personal reward because you work so hard and spend so much time to earn it," he said. "It would be cool to be able to do it for him (grandfather)."
Boy Scouts isn't the only activity keeping Gentry busy these days. He plays the French horn in band and he participates in debate, as well as his school's bowling and golf teams.
But scouting has definitely made the biggest impact on him, he said.
"Scouting helped me grow up," he said. "Joining when I was a kid was one of the best decisions I ever made."
More like this story