Nine
SMNW

student-athletes ink letters of intent at signing day ceremony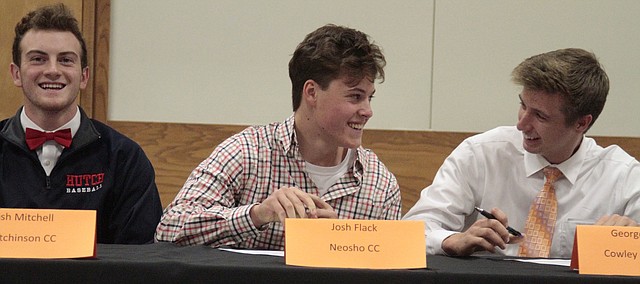 The nine Shawnee Mission Northwest student-athletes who signed their national letters of intent on Wednesday in the school's cafeteria will be taking different paths at the next level, but SMNW athletic director Angelo Giacalone and their respective high school coaches helped them understand that they will need the same character traits on their journeys.
Before Morgan Berry (Ottawa, volleyball), Alaina Burris (Ottawa, bowling), MaKenzie Cooper (Central Missouri, softball), Emily Wells (Cloud County, softball), Alex Rice (Cloud County, baseball), Josh Mitchell (Hutchinson, baseball), Josh Flack (Neosho County, baseball), George Specht (Cowley County, baseball) and Molly Born (Oklahoma State, cross country/track) signed their letters of intent, Giacalone said there was one word that he felt best described all of them. Giacalone defined the word grit, which means "courage and resolve; the strength of character" before outlining an acronym that further described other qualities they will need as college athletes.
"Guts — The young people and the young individuals who are before us hopefully will develop perseverance — both mentally and physically. They're going to remain steady and are willing to overcome any obstacles. They're going to push themselves and their teammates to be better each day. And whether they themselves face physical, mental, emotional or social obstacles, they're going to strive to make themselves — and in turn their teammates — the best they possibly can be.
Relationships — They're going to form many bonds at the college level as they have in high school. They're going to have positive communication with your teammates, coaches and those who involve themselves both on and off the athletic playing surface. They are people and are going to be people that are leaders that others on the team believe that they can talk with. They may not say much, but through the examples that they have, they lead themselves and others will follow.
Integrity — They have respect for the game they play. They have the sportsmanship that they offer to their teammates, their coaches and their competition and those who officiate the game — and sometimes that's not easy. They are humble when victorious and yet they're not going to point fingers in defeat. They do the right things in all of the actions they pursue — not only when they're being watched by others, but in the moments when they can take those shortcuts.
Truthfulness — This is the honesty with your coaches, with your teammates and most of all with that man in the mirror when you look at yourself. At the end of the day, you will look at yourself and you will ask yourself, 'Did I leave it all on the field?' Most of all you will realize that in the world of success that there are no shortcuts."
Berry and Burris were the first two athletes who were introduced. The future Braves are both joining Ottawa programs that are on the rise. Berry signed with an Ottawa team that won a Kansas Collegiate Athletic Conference regular season title and is receiving votes in the latest NAIA poll going into the postseason.
"It's really exciting that I'm joining such a great program that they've already built," Berry said. "I'm excited to be a part of that next year."
While Berry is looking forward to playing for the Braves, she made sure to give credit to her mother for taking her on various recruiting trips, SM Northwest coach Susan Specht and assistant BJ Specht for helping her become a well-rounded player and each of her teammates by name for pushing her through adversity. Berry played every position except middle for the Cougars, and helped SM Northwest to a state tournament berth in 2016 and 29-win season in 2017.
"She's quick, she's smart and she's versatile," Susan Specht said. "She's played four to five different positions throughout her high school career at Northwest — outside hitter, right side, setter, libero, DS (defensive specialist), the list goes on. She ended our season as our starting libero, but will most likely set next year for the Braves at Ottawa University."
Burris will join Berry at Ottawa while becoming a member of the Braves bowling team, which is currently in its inaugural season. In the Braves' third tournament of the season on Sunday, they won the Jayhawk Collegiate Challenge.
"I'm really excited, especially with the fact that (coach Geoff) Poston came to me at a meet last year," Burris said. "He watched me bowl and he wanted me on their team. I fell in love with the campus so I'm really excited, and I'm already friends with a bunch of people on the team."
Before Burris heads to Ottawa, she has high expectations for her senior season at SM Northwest this winter. Burris was selected to the Class 6A all-state second team and named the Sunflower League Bowler of the Year as a junior, and won a Sunflower League title as a sophomore.
"She's one of the top three bowlers in school history and probably if all goes well this year, she'll finish as the top bowler in school history with every record that we have," SM Northwest coach Billy Dent said. "Her average of 192 is currently second in school history. She's got the third-highest game with a 264 and she has the second-highest three-game series with a 678."
Burris' love for bowling began long before she joined the SM Northwest varsity squad as a freshman. While it was a struggle at times to spend a lot of her youth at a bowling alley, Burris noted that Wednesday's ceremony served as a reward for all of the practice that she put in.
"When I was 5 years old, my parents woke me up every single Saturday. I sacrificed hanging out with my friends every weekend so I could be at a bowling alley in Gladstone by 7 a.m.," Burris said. "Around the age of 10, I really started to resent going to the bowling alley every weekend, but after a while of complaining about not wanting to bowl all of the time, my parents let me quit one of the two leagues I was in and I realized how important it was to me. When I got to high school, it impacted me tremendously and I realized just how actually important it was because I then realized that bowling was actually a collegiate sport and it was something that I wanted to continue on."
After Specht and Dent helped introduce Berry and Burris, Giacalone got the chance to say a few more words about Cooper and Wells. One of Giacalone's favorite memories as SM Northwest's athletic director was watching Cooper and Wells mentor elementary and middle school-aged kids during a youth softball clinic put on by the Shawnee Mission School District.
"Watching them work with our elementary and middle kids in the clinics and the camps that we had was very, very refreshing to see them pass their knowledge and their talent and have the patience for these young people to try to bring Shawnee Mission softball back on the map," Giacalone said.
Along with having several high school and club coaches and teammates who have guided her throughout her softball career, MaKenzie thanked her older sister, Katt Cooper — an SM Northwest and Baker alumna, for passing along the knowledge and competitive drive to become a better player.
"I first started playing softball when I was younger because I saw my cool older sister playing," MaKenzie said. "It turned into something more than just a game, and I developed a strong passion for playing."
The SM Northwest senior shortstop has been a fixture in the middle of the Cougar lineup since bursting on to the scene as a freshman. MaKenzie earned Sunflower League Newcomer of the Year honors in 2015 and is looking forward to make an impact on a Central Missouri team that has notched five straight winning seasons.
"I'm so excited to better my game and learn more about it through the experience," MaKenzie said. "Not only the softball side of it, but just learning how to be more professional through the sport as a whole rather than a pastime and it being my job."
After Cooper started her high school career as an outfielder, she moved to shortstop to enhance the defense in the infield. Wells has also showcased her versatility for the Cougars, and was selected as an all-Sunflower League second-team utility player as a sophomore. According the Giacalone, athleticism is just one of the positive aspects that Wells has contributed to the Cougars.
"The other thing, I think, that Emily brings to the game is her knowledge and her IQ. She was selected basically as a student athlete for the state of Kansas within the sport of softball," Giacalone said. "This is evident not only by what she does in the classroom, but the way she manages the game on the field, the way she moves players around, etc."
Giacalone said that he wouldn't be surprised to see Wells enter the coaching ranks after she concludes her playing career. Wells is one of five of the SM Northwest signees to continue her career in the Kansas Jayhawk Community College Conference. The SM Northwest senior will join a Cloud County team that posted a record of 19-22 last season.
"Just the people there, the coaches and it just felt like home," said Wells of what made Cloud County the right fit for her.
Wells was the first of two Cloud County signees to be introduced, as she was followed by Rice. The SM Northwest leadoff hitter is following in the footsteps of former Cougar Ryan Simons, who started for Cloud County in center field last spring as a freshman. While Simons will move on from Cloud County after the upcoming season, but he helped to make Rice a believer of the Thunderbird program.
"I talked to him when I went up there for my visit," Rice said. "A lot of their program is based around fast guys, so I think it fits in really well for me."
Rice added, "I think it's going to be fun. When I was there on the visit, they told me that the new coaches went from nine wins to 28 in one year. And they're getting a new indoor (facility), so that really kind of excited me and influenced me."
As the Cougars' leadoff hitter and center fielder, Rice earned all-Sunflower League and all-6A state second team honors last year. Northwest coach Domenic Mussat is excited to have Rice back for one more year as a catalyst for the Cougars.
"This guy was running balls down that I didn't think were going to be caught," Mussat said. "He's like a gazelle out there while he's running."
Mitchell, a fellow Cougar outfielder, was the next signee to be introduced by Mussat. Mitchell will reunite with one of his former teammates at Hutch in Dylan Nedved. Cougar alumnus Garrett Stephens is also entering his sophomore season at Hutch.
"It's very exciting," Mitchell said. "Dylan is a great player and it's good to carry on the Northwest tradition at a fantastic program."
Mussat spoke highly of all four of his signees when college coaches reached out to him about them. The SM Northwest coach said that one of the best qualities of Mitchell is that he speaks out often as a vocal leader of the team, as well as leading by example.
"His sophomore year he got hurt and wasn't able to play for the rest of the season, but yet he was there for the rest of the season as we had a postseason push leading everybody verbally. He was the guy on the bench who is getting everyone pumped up and ready to go," Mussat said. "He was the guy that if someone was down, he was getting them ready and getting them refocused. That to me is the definition of a leader."
The Blue Dragons tied their single-season record for wins in a season last year with 47. Mitchell is looking forward to helping the Dragons build upon that, but he wants to earn some hardware with the Cougars this spring before going to the next level.
"I'm just ready to win state," Mitchell said.
Mitchell won't be the only SM Northwest baseball player reuniting with a former Cougar at the junior college level. Flack will join SM Northwest alumnus Joe Todd at Neosho County, which was one win away from reaching the NJCAA World Series. One of the strengths of the Panthers last year was their pitching staff, which included another Cougar product in Brennon Covington. The SM Northwest alumnus went 9-2 in his second year at Neosho before moving on to Missouri Southern State.
Flack is looking forward to the chance of joining Todd on the Neosho County pitching staff.
"I'm really excited to go play with Joe because he was my catch partner all last year, so I'm really excited to get to do that with him," Flack said. "He was also part of the Midwest Black Sox with me."
After posting a 5-1 record with a 2.81 ERA in his junior campaign, Mussat believes another big season is in store for Flack this spring. Mussat said that one of the big reasons for Flack's success is how much he studies film to get better each time he takes the mound
"Josh is a student of the game," Mussat said. "I remember after one of his first starts last year, he sent me an email — 'I sat down. I looked at this, I looked at that and I know how to change things. I know what I need to work on to become better.' Even though it was a successful outing, he was still trying to make himself better."
The team that denied Neosho of a trip to the NJCAA World Series was Cowley County, which is where Specht will begin his college career. Cowley County has reached the NJCAA World Series in three of the past five years, and placed third last year.
"It's very exciting," Specht said. "I'm really looking forward to going down there and having the coaches make me the best baseball player I can possibly be."
While all four SM Northwest baseball players who signed on Wednesday will all go to different junior colleges, Specht believed that the competition at the NJCAA level fit them well.
"We all thought it was the best idea for us to go JUCO just to develop our skills," Specht said. "I'm really looking forward to playing their teams, especially."
Mussat has asked a lot of Specht over the past few years with playing several positions, and the SM Northwest coach believes that will continue to pay off down the road.
"If you were to go to Wikipedia and look up teammate, there had better be an 8x10 (photo) of this young man," said Mussat of Specht. "When he came to us as a sophomore, he played some second base and I thought, 'Hey, we'll move some things around put him at third.' So I went to him when he was a sophomore and I said, 'Hey George, would you like to play third?' The terror in his face when I asked him that told the entire story, but here was his response to me, 'It's kind of close, coach. It's kind of scary. But if it will help the team, I'll do it.'"
The mutual respect for the ninth signee and their coach was very apparent as well as SM Northwest cross country coach Van Rose introduced Born. The SM Northwest distance runner has won two 6A cross country titles and a pair of 1,600 and 3,200-meter state titles in track. Born also owns the state record for the 3,200 meters, and will look to lower that mark this fall as she returns from a navicular stress fracture that sidelined her this fall in cross country.
Born had high praise for Rose for helping her become a fastest runner, guiding her through the recruiting process and teaching her life lessons that go beyond cross country and track.
"I would like to say thank you to all of my coaches who have been there for me these past years — coach Justin Stigge, coach Mike Rose, coach Mike Cooper and a special thank you to coach Van Rose. Coach Rose is the reason that I'm able to be here today. He taught me about hard work, patience and the love of distance running. I cannot thank him enough for all he has done for me in running and life."
There were several college coaches who reached out to Rose about Born. Rose is excited to see Born continue to blossom under Oklahoma State coach Dave Smith. Oklahoma State has finished second at the Big 12 Cross Country Championships two years in a row after winning a conference title in 2015.
"She was not the fastest girl coming out of Trailridge. The work ethic shows," Rose said. "She finished her sophomore year ranked in the top 10 in the country. Schools from coast to coast have sought to add her to their track and cross country teams.
"Coach Stigge and I were at an airport in Portland and the Princeton coach came up and wanted to talk about Molly. Every week, I'm getting emails from coaches all over the country. Stanford, Florida State, you name it — they were contacting me. As much as I've enjoyed Molly running for Northwest, I'm really looking forward to her running cross country, indoor track and outdoor track at Oklahoma State."