Mill Valley outlasts St. James, 21-14, to set up sub-state rematch against Aquinas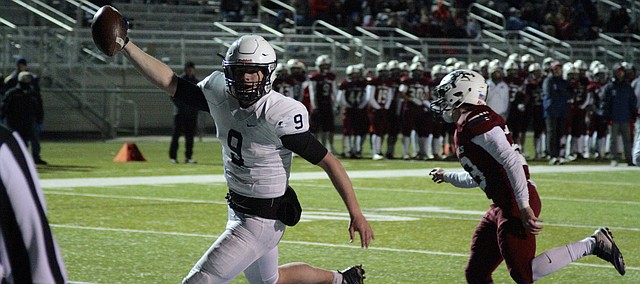 Olathe — After a 24-point loss to St. James Academy to open its season, Mill Valley coach Joel Applebee was adamant that his team would bounce back beginning with its practice the following Monday.
While the Jaguars began their season with a record of 0-1, Applebee continued to instill his program's motto of "1-0" to ensure that his team would learn from its mistakes. The Jaguars got a second chance at the Thunder on Friday at the College Boulevard Activity Center, and they prevailed over their Eastern Kansas League rival, 21-14, for the second straight year in the sectional round of the Class 5A playoffs.
"When we wake up in the morning from when we lay our heads down to sleep, we just think about 1-0. Winning that rep. Winning this game," Mill Valley quarterback Brody Flaming said. "Every time you put your hand on the ground and just saying, 'I can beat that person right in front of me.' It's really big for us and I think it's great what coach Applebee has established."
In the Thunder's 45-21 victory over the Jaguars in Week One, St. James made a statement with a 96-yard touchdown drive and never looked back. The Thunder (8-3) dictated the pace with senior running back Jack Petz and their powerful running attack, and the Jaguars were determined to not let history repeat itself.
Petz still broke the century mark for the ninth time this season with 132 yards and a touchdown on 34 carries, but the Jaguars were able to contain the powerful running back early. After the Mill Valley defense forced St. James to go three-and-out on its first possession, Flaming didn't waste much time in capitalizing. Flaming found junior wideout Logan Talley over the middle for a 42-yard touchdown strike on 3rd and 16 to put the Jaguars on the board first.
The Thunder offense continued to scuffle on its second drive with another three-and-out, but St. James seized some of the momentum when Thomas Stark recovered a Cameron Young fumble at the Jaguar 16-yard line on the ensuing possession. St. James wasn't able to make Mill Valley pay for the turnover, though, as the Thunder turned it over on downs inside the 10-yard line.
"Defensively was lights out. These kids were well-prepared," Applebee said. "Coach (Drew) Hudgins did an unbelievable job and our whole defensive staff. We faced one of the best backs in the state of Kansas. To play the way they did tonight, I'm very, very proud of them."
The Jaguars (7-4) pushed their lead to 10-0 with the first of Jack Matchette's two field goal less than a minute into the second quarter. St. James tried to get back within seven, but Nick Ingolia's field goal attempt fell short. The Thunder were able to break through on their next drive, though, with a 19-yard touchdown pass from Luke Heller to Mason Dunsmore. The senior wide receiver caught five passes for 78 yards, and became the Thunder's No. 1 target during the second half of the season. Dunsmore was eased back into action this year after suffering a season-ending knee injury in 2016.
"He's a special kid, a special young man," said St. James coach Tom Radke of Dunsmore. "There are a lot of guys in that locker room, but he's fought through a lot of adversity with coming back and the way he played down the stretch for us. You just throw it up to him and Mason makes plays."
Flaming went back to work after the Thunder cut the deficit to three with 1:44 to go in the first half. The senior quarterback found a rhythm with Talley — who finished with eight receptions for 149 yards — and Evan Rice to set up a 39-yard field goal from Matchette with 19 seconds left before the break.
The Thunder defense continued to keep St. James in the game in the second half — coming up with a stand on 4th and 4 on the SJA 44 to get good field position. St. James was presented with a 4th and 4 just outside of the red zone on the following drive, and Heller got exactly four yards to keep the drive alive. Petz went on to finish it off with a 1-yard touchdown run to give the Thunder their first lead.
Petz didn't get much of a chance to rest in the second half, as he played defense since the Thunder were short-handed due to a couple of injuries.
"He's a selfless player — one of the best I've ever coached," said Radke of Petz. "He's a leader, tough, every football adjective you can say right there. He's the man and made some big-time plays for us again tonight."
The St. James running back/linebacker received some high praise from Applebee as well. After each team's post-game huddle, Applebee went over to congratulate Petz on his standout senior season.
"He's a great running back in high school football. He's just a tough, tough competitor," said Applebee of Petz. "You saw him playing defense at the end there at the end of the game. We knew what type of back he was. I thought our kids prepared very, very well to face him tonight."
The Jaguars took the lead for good with 8:11 remaining when Flaming connected with Rice for a 26-yard touchdown pass. Flaming ran it in for the 2-point conversion to put the Jaguars up 21-14.
"We had a lot of big plays that we needed to make," Applebee said. "It wasn't the prettiest at times, but in the end Brody always does a great job of making sure our team is in the position to have a chance to win, especially this time of year. He proved that again tonight."
The Mill Valley defense did the rest to send the Jaguars back to the sub-state championship game. The Jaguars forced the Thunder to turn it over on downs with 5:33 to go, but St. James found new life when Zach Schieffer came up with a fumble recovery with just under four minutes to play.
Heller connected with Dunsmore for a 31-yard pass to give the Thunder the ball on the Mill Valley 18-yard line with less than two minutes remaining, but the Jaguars forced another turnover on downs to seal the victory.
The Jaguars will now turn their attention to St. Thomas Aquinas for a third consecutive sub-state matchup. Aquinas has won the last two regular season matchups against Mill Valley — including a 42-21 victory in Week Five — but the Jaguars upended the Saints in the previous two sub-state meetings.
"We love playing Aquinas," Mill Valley senior defensive lineman Ike Valencia said. "It's the most fun game of the year."
Valencia and the defense has fueled the Jaguars' five-game winning streak. The Jaguars have held their opponents to 11 points per game in the playoffs, and Valencia believes a big reason for that is the trust that they have in each other.
"It's nice because I know when I squeeze down my gap and the running back slips through, I know Sage (Sieperda) is right there to make that play along with the other linebackers," Valencia said.
The Jaguars will go up against an Aquinas team that has won eight straight games. The Saints (10-1) advanced to the sub-state title game with a 42-21 win over Pittsburg. Kickoff is set for 7 p.m. Friday at Aquinas.
"I'm super excited. I'm pumped," Flaming said. "It's always a great time playing them, especially at their place. It's always a big hyped-up game. There's always a big crowd and it's always a fun time to be there."
In the other sub-state final, Bishop Carroll (10-1) will play Goddard (11-0) in a showdown of the last two state runners-up.