Shawnee woman's World War
II

story lives on through museum donation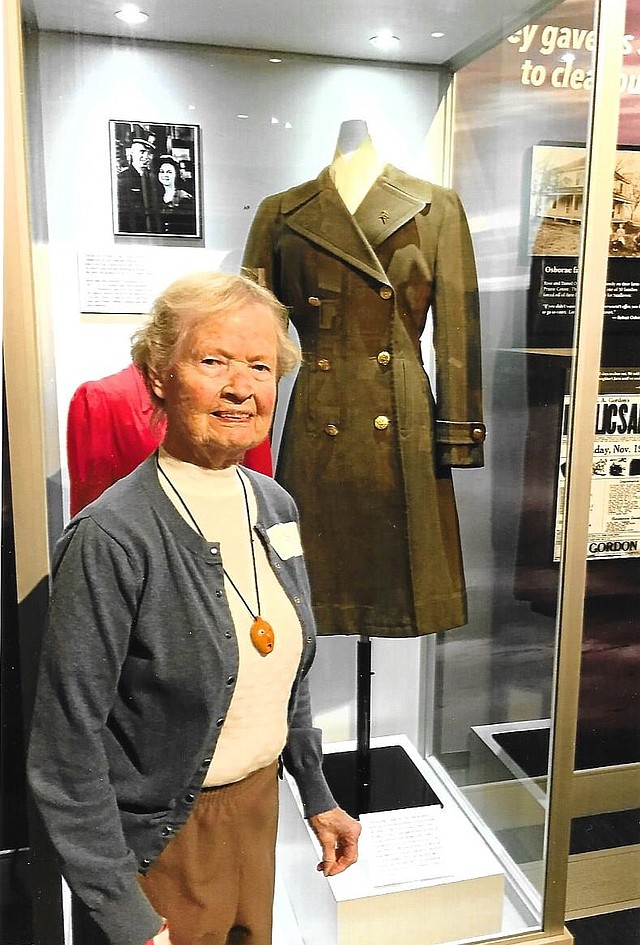 When Shawnee resident Mary Cashman visited the Johnson County Museum at the Arts and Heritage center last month, she was delighted to see a piece of her own history in the spotlight.
The 94-year-old's wool coat from World War II is currently only display at the Overland Park museum.
A few years ago she donated her Air Corps winter uniform, which included the coat, so it could be preserved in a safe place.
It was a garment she wore from 1944 to 1946 when she helped take care of wounded men who were brought back to the United States from fighting overseas.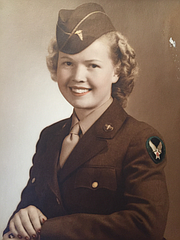 Over those two years, she was stationed at the Lowry Air Base in Denver, the Buckley Air Field in San Antonio and Fort Bliss in El Paso.
The experience was eye-opening for a 20-year-old girl, she told the Dispatch.
She also donated a milk can from her childhood farm in Nebraska and a family shovel dating back to 1786.
When Cashman completed her Air Corps service, she attended Washburn University, where she met her future husband, Samuel, a handsome educator, who was also a former soldier.
In 1952, the couple moved to Shawnee where he became the principal of South Park Elementary School.
They raised four children in Shawnee.
Cashman also became a well-known educator in the Shawnee Mission School District, eventually retiring from Ray Marsh Elementary School in 1990.
Over the past several decades, she has written five books, with one being a children's book and others being about her family and life.
She also hasn't entirely given up her education career, as she teaches part-time at St. Joseph Catholic School.
And although World War II may be a distant memory, a dedication for service lives through her family today as her granddaughter, Catherine Pellerito, a Shawnee Mission Northwest graduate, is enlisted in the Navy.
Pellerito spent most of this summer with her helicopter crew in the Virgin Islands and then Puerto Rico distributing food, water and other necessities to residents after Hurricane Irma.
In January, she will start a tour in Afghanistan.
Until then, she is staying at her home base in Norfolk, Va.
Cashman said she is very proud of her granddaughter.
More like this story