Area kids find fun in Donderdag! youth cyclocross program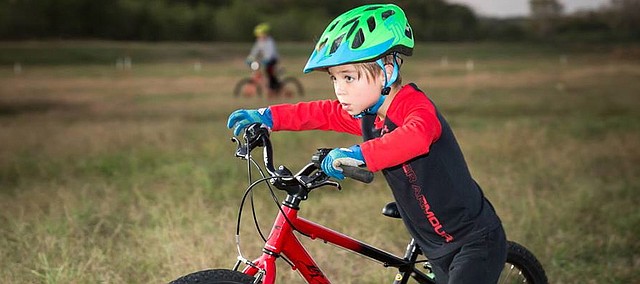 While most athletes will be competing indoors this winter, Prairie Ridge Elementary fourth graders Harrison Brown and Parker Chalupnik and several of their friends will remain outdoors enjoying a sport that is fairly new to Shawnee.
Each Thursday night, Brown, Chalupnik and around 40 to 50 other kids venture out to western Shawnee at 5500 Frisbie Rd. for a youth cyclocross clinic put on by Donderdag!
"My friend Parker got me into it and took me out to the races," Brown said. "It was really fun and I just wanted to keep doing it. I like how it's not about beating other people. It's about trying to beat your own time."
This is the first year, but likely the last that the Donderdag! clinic will be held at the western Shawnee location. The weekly clinic was previously hosted at the home of Donald Jonas Jr., who has enjoyed the more spacious environment.
"Out here what's nice about it is we have room. When we were at my house, we had one course that was like 500 meters. Out here we have three courses," Jonas said. "We have a course that's for strider kids. We've got a middle course that's 575 meters and a bigger course that's almost 2,200 meters. That's the best thing that the kids are split up now."
While the cyclocross riders have embraced whatever weather or course conditions that they've presented with since the clinic started in September, a few of the kids realized on Thursday that one of the courses was a little bit different than the previous week. One of the barriers had been taken down, and it was not done by Jonas or any of the other adult volunteers.
The clinic carried on as usual despite the missing barrier, which was found in pieces down the road by a disgruntled Jonas. While Jonas was disappointed by the actions of the person who destroyed the barrier, he's made it a point to not only teach the sport of cyclocross to the kids in the Donderdag! program, but valuable life lessons as well.
Before the kids started riding on Thursday, they gathered up the canned goods that they brought to take to a food kitchen in Prairie Village. The riders who brought cans were eligible to win a raffle items, which primarily consisted of cyclocross gear.
"It's important for young people to learn that there are things more important in the world than just them and that we can serve right here in our community. This soup kitchen we go to is on Mission Road in Prairie Village," Jonas said. "That neighborhood uses a food pantry, too. I wouldn't do this without teaching those kids that. We teach the older kids to nurture, raise and protect the younger kids when they're out there riding on the course. We teach them how to feed people."
One of the other main principles that Jonas has preached is that winning is not of the utmost importance. After coming to the clinic on Thursdays, a majority of the kids compete in races each weekend for the Kansas City Orthopaedic Institute team.
"When we go to the races, 95 percent of the kids racing have ridden at the Donderdag! program and then all of the out-of-town kids are from teams. A lot of KCOI kids here in the red kit, that program grows significantly thanks to the Donderdag! program in the sense that we recruit so many new families into bicycling through cyclocross during the winter and the coach for KCOI, Jandle Johnson, he's always here at the races," Jonas said. "He helped me learn how to get into cycling at the junior level because his kids and my kid rode together. He was my kid's coach before I got into cycling."
At most of the races, the top three to five finishers earn a spot on the awards podium. Kids like Brown who aren't as experienced are more focused on improving their time rather than how they have placed.
"(I've done) way better than I thought it would," Brown said. "I've normally got in the middle of the pack, but I think I've been doing really good for only my second year doing it."
Before Chalupnik twisted Brown's arm into cyclocross racing, Chalupnik had another one of his good friends convince get him involved with the sport about three years ago and he's loved it ever since. Dylan Milam and his dad, Chad Milam, talked Chalupnik into getting involved with cyclocross, and now he's trying to create the same bond with his father.
"They got me started and know they're trying to get my dad started," Chalupnik said with a laugh.
The Donderdag! program has kids the ages of 3 to 16 with various levels of experience. Finn Smith, a sixth grader at Oxford Middle School in the Blue Valley School District, is one of the more experienced riders. Smith recently took fourth in two larger-scale races in Louisville, Ky.
"I like the fun of it," Smith said. "Before you race you get to talk to everybody and then during the race you get to have fun and race and then when you're done you get to do wheelies and bunny-hop stuff and cheer for other people."
Smith and some of the other riders in the Donderdag! program have their eyes set on competing at the USA Cycling Cyclocross National Championships from Jan. 9-14 in Reno, Nevada.
"I just can't wait until the hard ones," Chalupnik said.
For more information on Donderdag!, check out the Donderdag! Youth Cyclocross Clinics Facebook page (https://www.facebook.com/groups/donderdagcx/). The clinics will be held at 6:30 p.m. each Thursday night — aside from Thanksgiving — through the end of the year.
More like this story