Council approves creation of
TIF

redevelopment district
Vote makes Westbrooke project eligible for tax increment financing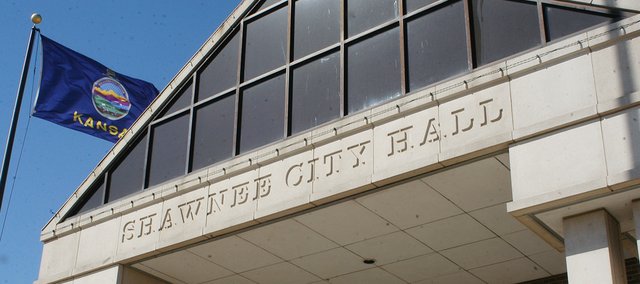 It was a small step, but an important one.
At its meeting Monday evening, the Shawnee City Council approved the establishment of redevelopment district which will make a $110 million mixed use project eligible for tax increment financing.
The creation of the district is simply the first step in the TIF process and does not mean the city has approved the project or incentives.
The proposed Westbrooke Green project, set to replace the former Westbrooke Village Shopping Center on the northeast corner of 75th Street and Quivira Road, will feature luxury apartments, retail and restaurants.
The developer of the project, MP Westbrooke North, LLC, is requesting $19.45 million from TIF, as well as $6.0 million from a Community Improvement District.
No residents spoke during the public hearing.
The council also approved public hearings to consider the adoption of the TIF project plan and to consider the creation of a 75th Street and Quivira Road Community Improvement District and to levy a CID sales tax.
Both of those hearings will be held at 7 p.m. on Dec. 18 at Shawnee City Hall, 11110 Johnson Dr.
Later during the miscellaneous council items portion of the meeting, Councilman Eric Jenkins voiced his concerns about tax incentives, such as TIF.
He pointed out that in the last two years, taxes in Shawnee were raised because the city didn't have enough money to meet expenses.
"In the last year since then we've had two projects presented to us to total over $200 million and these projects will not bring one cent in revenue to our community," Jenkins said. "So as our prices continue to go up, we have additional health insurance cost that are coming up every year and salary raise to employees and there's all these additional expenses we get year to year.
"How are we going to pay for that other than going back and raising taxes on the homeowners? We have to be more sensitive to that."
But a few other council members disagreed with his view.
Councilwoman Stephanie Meyer was one of them.
"One of the biggest concerns we (the council) have is the level of property taxes we all pay," she said. "We all know the best and most effective way to lower citizens' property taxes is to broaden our business tax base and in order to do that, we have to bring additional businesses into the community. The reality of it is to do some level of economic development."
She also said, for example, if the city granted Westbrooke developers a TIF, the level of taxes the city will receive are equal to what it was going to get before, but the project would also bring increased business and other benefits, which could generate other development in the area.
Council members Brandon Kenig and Jeff Vaught agreed with Meyer that a TIF should not be considered a tax giveaway.
Kenig stated that economic development shouldn't be seen through a vacuum, because when done right, new development can inspire other declining properties in the area to spruce up.
Vaught added that financial incentives are a necessary evil.
"Corporate welfare happens everywhere," he said. "Massive amounts of it. If we're going to compete with our neighboring cities who on every side of us are passing incentives and doing deals like this, then we have to.
"We can stick our head into the sand and say 'incentives are wrong' and that's fine and you will see nothing great happen in Shawnee. It's the financial reality of what we're dealing with now."
Mayor Michelle Distler also pointed out that Shawnee has a modest amount of TIF projects compared to other cities in the area.
"We have development going on every day in the city of Shawnee and we have two active TIFs in 42-square miles," she said. "We're the third largest city in the county and the seventh largest in the state. We have all kinds of development going on without incentives."
During the public hearing portion of the item, only one resident joined the conversation.
Ray Erlichman acknowledged when it comes to the Westbrooke property, he believes something needs to be done.
But, he wants the city to be more careful when it comes to the amount it grants developers in the form of incentives.
"I'm not saying get rid of the TIF because in this particular case, I think there is a definite need," he said. "I have no problem with it. I have a problem with the percentage."