Beyond Veterans Day: Senior living community honors American heroes every day with memorial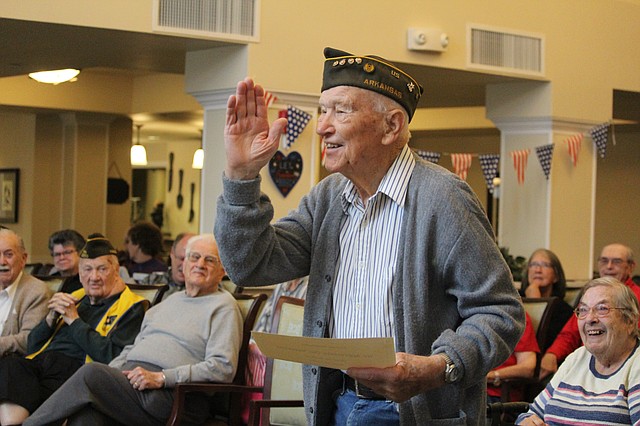 More than 70 years ago, Marvin Brown had one of the most dangerous assignments during World War II: he was a ball turret gunner, exposed in a glass bubble on the bottom of a B-17 bomber during enemy raids over Germany.
On Friday morning, the Arkansas native was among dozens of former military men and women honored during a Veterans Day ceremony at Shawnee Hills Senior Living Center.
After certificates were handed out, the senior living residents and staff socialized over patriotic cake and other refreshments.
While Brown and his wife have only been living at Shawnee Hills for a month, his war stories have already become incredibly popular.
He joined the Air Corp at 18, and after training, he was immediately sent overseas for battle. He was stationed in England and flew missions over Germany. He capped off his service in 1946 by helping to parachute clothing and food to war survivors in Holland.
But his most unusual story is how he and his childhood buddy from Arkansas didn't realize they fought in the same battle until they swapped war stories during the 1990s.
His friend, B.F. Branson, was part of a troop unexpectedly attacked by Germans in Nuremberg. The soldiers had no time to retrieve their guns, much less get ammunition ready.
Help came in the form of B-17 bombers in the sky.
Unbeknownst to Branson at the time, his buddy Brown was up in one of those fighter planes attacking enemy forces.
"The Germans were mowing them down," Brown said. "The sky was full of junk. Everything from plane parts to dead bodies attached to parachutes flew all around."
His story is one of hundreds which have been told at the Shawnee Hills Senior Living Center.
And veterans like Brown, with incredible tales of near-death experiences and heroism and courage, are not just honored on Veteran's Day, but every day at the center.
Shawnee Hills, 6335 Maurer Road, features a memorial with plaques dedicated to each veteran, along with military memorabilia.
The walls show each veteran's story and photo. There are books and photos and illustrations and donated uniforms.
It isn't unusual to walk along the senior living center's second floor and find a few people reading the plaques or peering through one of the books.
The memorial was the vision of Tom D'Andrea, the former Shawnee Hills maintenance director.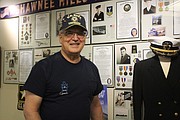 The veteran, who served in the U.S. Army from 1962 to 1966, came up with the idea in 2011, after taking a couple residents to the Olathe Air Show.
The Sons of American veterans from the VFW in Lenexa built the tables and D'Andrea rounded up the mannequins and uniforms.
He also interviewed each veteran and got with a family member and figured out what to put on each plaque.
"It means so much to each veteran to have their history preserved," D'Andrea said. "They need more recognition than one day per year. There's nothing better than to see a smile on their face when someone recognizes what they did for this country."
He also established a veterans monthly meeting for Shawnee Hills residents, which features guest speakers.
"The camaraderie is unbelievable," he said. "They don't have to prove anything to each other because they know each other's stories. They have so much respect for each other."
Although D'Andrea retired from Shawnee Hills in February, he still helps maintain the memorial, which is open to the public.
He sees it as a way to pay respect to the residents who served, and educate the residents who didn't.
And it's going to continue to evolve.
There are plans to build a podium and scrapbook dedicated to the deceased veterans, to make room for new ones on the wall.