Shawnee Mission Health announces
MD

Anderson affiliation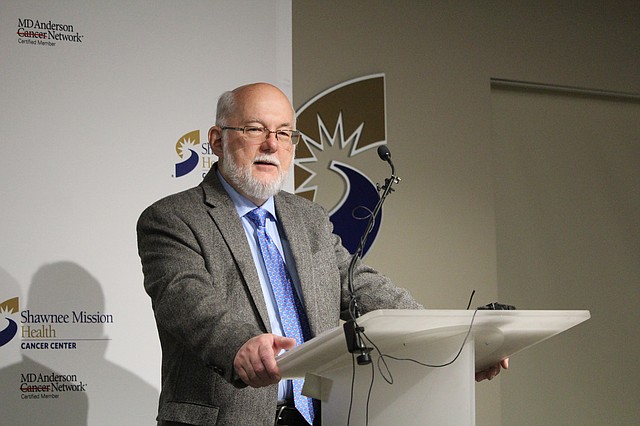 It's one of the most respected cancer institutes in the world. And now, it's level of care is being brought to the Shawnee area.
At a press conference last week, officials from Shawnee Mission Health announced it has become the 17th hospital in the nation to join the MD Anderson Cancer Network.
Shawnee Mission is the only hospital in the Kansas City area, and the only one in Kansas, to affiliate with the Houston-based center, which focuses on cancer patient care, research, education and prevention.
The University of Texas MD Anderson Cancer Center is one of 49 comprehensive cancer centers designated by the National Cancer Institute and it ranks number one for cancer care in U.S. News & World Report's "Best Hospital" survey.
Being part of that network is invaluable for both Shawnee Mission Cancer Center physicians and patients, said pathologist Sam Caughron.
After all, it will allow patients to receive cancer care based on the expertise and treatment guidelines developed at MD Anderson.
As a certified member, doctors will have access to comprehensive oncology improvements, clinical practice guidelines and cutting edge best practice programs built on MD Anderson's approach to cancer care.
Shawnee Mission cancer specialists will also be able to routinely engage in treatment consultations with subspecialized colleagues from MD Anderson.
"When we see patients with a rare form of cancer, advanced disease or an unusual presentation, this consultation with MD Anderson's cancer experts will be tremendously valuable to us and more importantly, to our patients and to our community," said Caughron.
The road to an affiliation with MD Anderson was not an easy one.
Shawnee Mission Cancer Center underwent a rigorous year-long certification process.
"They don't collaborate with just anyone," said Caughron. "Our facilities were inspected, our physicians' training, our practice were scrutinized, our safety standards were thoroughly examined. And their rigorous examination affirmed we provide exceptional care worthy of their network."
Also at the press conference, Bill Murphy, chairman of MD Anderson's physician network, said the affiliation with Shawnee Mission health was vital because collaboration is the only way to truly fight cancer.
It can't be done alone, he emphasized.
"Becoming a member of the MD Anderson Cancer Network demonstrates Shawnee Mission's commitment to providing the highest quality care and to serving the many, many needs of its patients here in the greater metro area," he said. "With its long-standing commitment to its long-standing patient care and now this collaboration with the MD Anderson Cancer network, together we can touch more cancer patients with a new standard of cancer care and elevate that care across this entire region.
"The mission to end cancer is one of the chief reasons that I came to MD Anderson 25 years ago and today, remain as a radiologist and a leader in the cancer network. Every day, I have the opportunity to contribute to our mission."
Shawnee Mission Health's affiliation with MD Anderson is only one step in its journey towards becoming a leader in the Kansas City cancer treatment industry.
Four years ago, the organization opened the Shawnee Mission Cancer Center with the focus being to treat the whole patient, from diagnosis to spiritual renewal, all on one campus.
Complementary therapies are offered, including massages, art therapy and music therapy.
A naturopath also works alongside patients to supplement and optimize treatment, addressing underlying causes of ailments and chronic health issues through naturopathic medecine.
And nearly three years ago, the cancer center welcomed three of the region's top gynecologic oncology surgeons to add a new dimension to cancer treatment for women.
For more information about Shawnee Mission Cancer Center, visit shawneemission.org.
More like this story