Face to face: Beth Mildren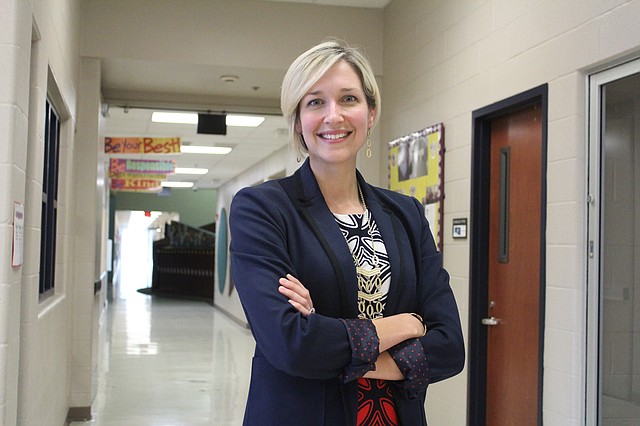 Name: Beth Mildren
Occupation: Principal at Riverview Elementary School
Born: Neosho, Mo.
Family: James, husband, and sons Will, 5, and Evan, 3
Dream job as a child: "This is going to sound really corny but I wanted to be a motivational speaker," Mildren said, with a laugh. "I just liked the idea of inspiring others."
Digging deeper: Although she may not be a professional motivational speaker, Mildren's decision to become an educator was based on her childhood dream to be a positive role model.
When she strolls down the hallways of Riverview Elementary School, the outgoing principal smiles brightly at every student walking her way and warmly greets them by name.
She sees potential in every student who passes through Riverview's doors and each year, along with the teaching staff, she hopes to inspire each one to reach their full potential.
The past year, Mildren and the rest of the school's staff have been gradually building up leadership development among the student body.
It all began last summer, when Mildren asked her staff to read, "The Leader in Me," by Stephen Covey, to get their opinions.
The book focuses on how to create a leadership program for kids of all ages, so they can be more effective, goal-oriented and successful.
The response from the teachers was positive.
While they didn't put a formal program in place, Mildren and Riverview teachers implemented ways this past school year to help each student develop 21st century skills, such as communication, creativity, collaboration and critical thinking.
"Foundational academic skills are extremely important, but so are these other skills which help students become leaders," Mildren said. "We want students to realize their strengths might be different, but each kid has the ability to be successful in their own way."
A couple examples of how leadership skills were encouraged this year included when the school had three students emcee the spring talent show, rather than an adult, and when third-graders helped kindergarteners make their way through the lunchroom.
Mildren and her staff realized that by giving students a little more responsibility, they were increasing their confidence.
And that result, Mildren said, is invaluable.
"Any time you can get students to make their own lives better, that's pretty empowering," she added, with a smile. "Everything we're doing is about creating a long-term impact."
More like this story